Passwords are often a prime target for cyber attackers, making password management software an essential tool for companies to secure their passwords and sensitive information.
A password manager can reduce the risk of data breaches by ensuring that employees are using strong, unique passwords for each account. Password managers can also simplify the process of managing and changing passwords, making it easier for employees to follow best practices for password security.
We've analyzed the market to come up with this in-depth guide to the best password managers, followed by buying considerations for those considering a password management solution.
Here are the 8 best password managers for business and enterprises in 2023:
Top password manager software comparison
|   | Free Trial | Customer Support | Passkey | Cloud syncing | Browser Extension | Secure Sharing | Pricing |
| --- | --- | --- | --- | --- | --- | --- | --- |
| 1Password | Yes | Yes | Yes | Yes | Yes | Yes | $2.99 – $19.95/month |
| BitWarden | Yes – 7 days | Yes | Yes | Yes – Microsoft Azure Cloud | Yes | Yes | $10 – $40/year |
| Nordpass | Yes – 30 days | Yes | Yes | Yes | Yes | Yes | Custom pricing |
| Enpass | Yes | Yes | Yes | No | Yes | Yes | $1.99 – $9.99/month |
| RoboForm | Yes | Yes | No | Yes | Yes – Except Firefox | Yes | $35.80 – $179/year  |
| Keeper | Yes | Yes | Yes | Yes | Yes | Yes | $24 – $58/year |
| LogMeOnce | Yes – 7 days | Yes | Yes | Yes | Yes | Yes | $2.50 – $4.99/month |
| Dashlane | Yes – 30 days | Yes | Yes | Yes | Yes | Yes | $2.75 – $5/year |
| Password Boss | Yes | Yes | No | Yes | Yes | Yes | $1.53 – $3/year |
1Password
Best user interface
1password has a well-designed and intuitive user interface that simplifies the process of creating and managing complex passwords. It has an app with a sleek and modern design that is both aesthetically pleasing and easy to navigate, making it accessible to users of all levels of technological expertise. 1Password stands out from its competitors with its unique features: travel mode, watch tower, and Secret Key. 1Password is launching its passkey feature this summer. With this innovative update, you'll have simple access to all of your accounts wherever you are as long as you have your phone nearby. The 1Password software on your phone will provide login authentication clearance through the use of your biometrics, whether you are connecting into an app on a smart TV or accessing your accounts on a new PC.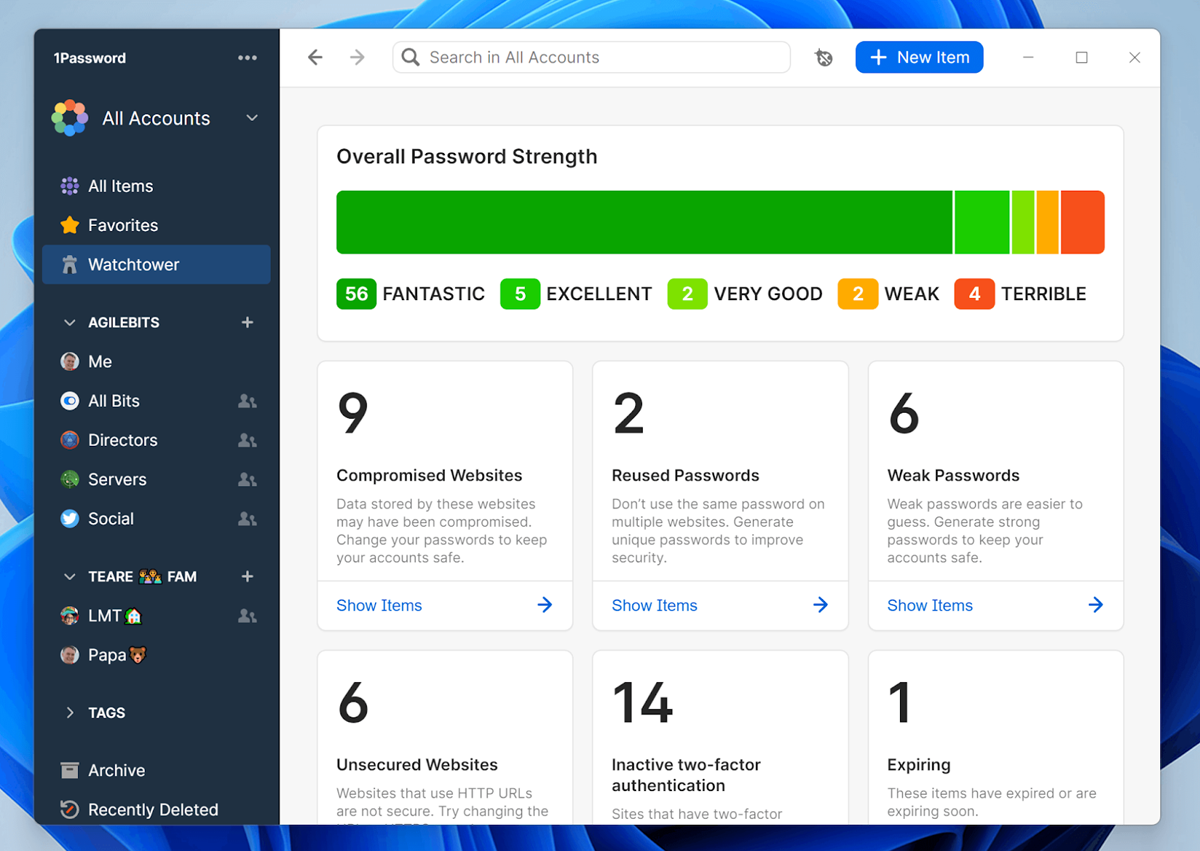 Pricing
1Password offers subscription-based pricing for its Personal/Family and Business plans. The Personal/Family plans are priced at $2.99/month for 1 user and $4.99month for 5 users, with access to limited or all features depending on the plan selected. The Teams plan starts at $19.95 for up to 10 users, while the Business plan starts at $7.99/month per user.
Features
Passkey support
Secure travel mode
Encrypted sharing
Unlimited devices
Password and username generator
Secrets Automation
Pros
Ease of usage
Checks compromised passwords
Live chat support
Travel mode
Secure password sharing
Advanced security measures
Compatible with latest OSes and browsers
WebDev Integrations
Cons
See our 1Password comparisons: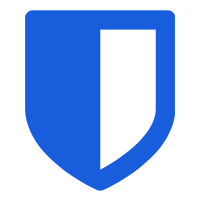 BitWarden
Best free password management
Bitwarden is a cloud-based service that offers browser extensions, mobile apps, and desktop applications for various platforms. This password manager uses end-to-end encryption to ensure that only the user can access their stored data, and also provides features such as 2FA, secure password generation, and secure password sharing passwords with family members and team members. Bitwarden simplifies the authentication process by allowing you to login to your Bitwarden Vault using passkeys. The security vault is accessed by being authenticated by trusted devices, fingerprint or facial recognition, hardware security keys, and FIDO2 WebAuthn Certified Authenticators. In other words, Bitwarden simply interacts with current Single Sign-On (SSO) systems, making password management and account security easier.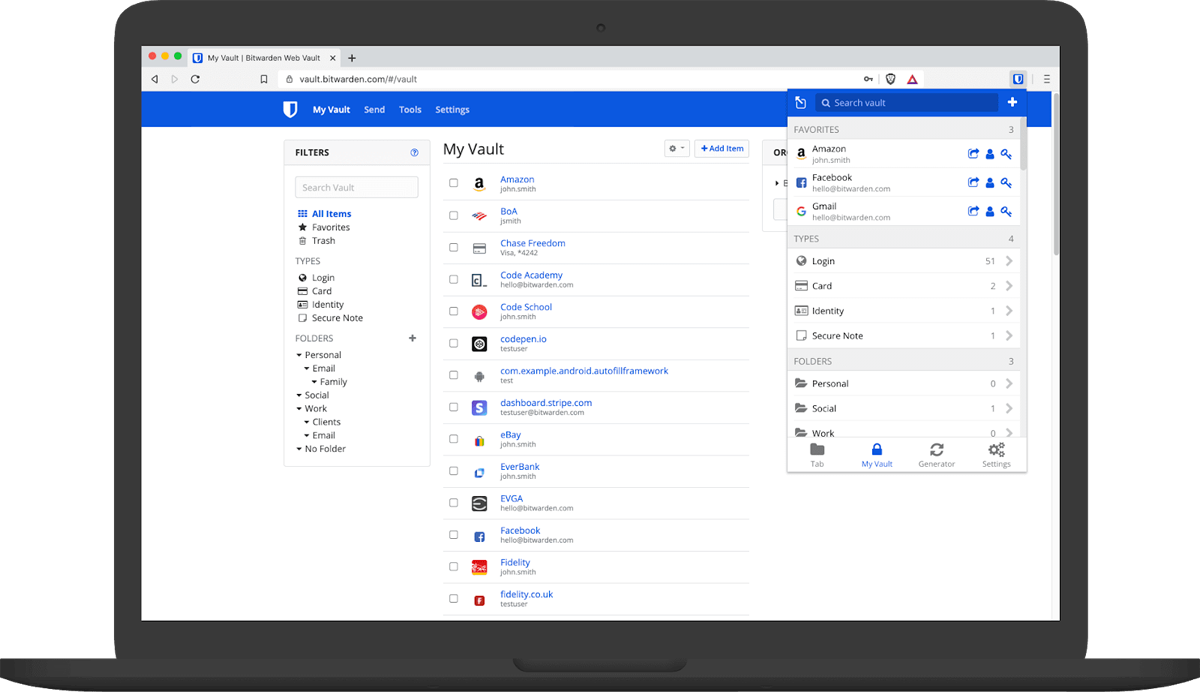 Pricing
Bitwarden offers both a free version and a premium version. You will get basic features such as password storage, autofill, and syncing across two devices for the free version. You will have access to more features with their $10/year premium version for individuals and $40/year for family plans with up to 6 users. Bitwarden also offers enterprise plans for businesses with pricing based on the number of users and features needed.
Features
Passkey support
Open source
Self-hosted option
Cross platform compatibility
Autofill feature
Keyboard extension
Pros
Advanced security features
Excellent free plan
Extensive customization options
Self-hosting capabilities
Intuitive and user-friendly interface
Affordable premium options
Cons
Interface design is not the best
Autofill feature may not always work smoothly
Premium users only get 1GB of encrypted storage
Also read: Bitwarden vs LastPass: Compare Top Password Managers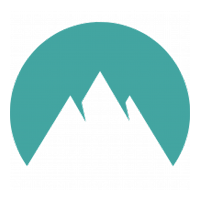 Nordpass
Best for consumers
NordPass offers a comprehensive password management solution that empowers you to safely store and access a wide range of sensitive information, including passwords, payment details, notes, and other important and personal data. In addition, NordPress protects your data using a "future-proof" encryption technology that surpasses the industry-standard 256 bit AES encryption. NordPass also offers a convenient Security Key to simplify your account access. This physical key is easily plugged into your laptop or PC, providing an extra layer of security. NordPass will also soon introduce a passkey feature, eliminating the hassle of remembering numerous passwords for different accounts. When logging into your accounts across multiple devices, passkeys offer several benefits, you will receive a notification promoting you to authorize the login by using your biometrics that you've set.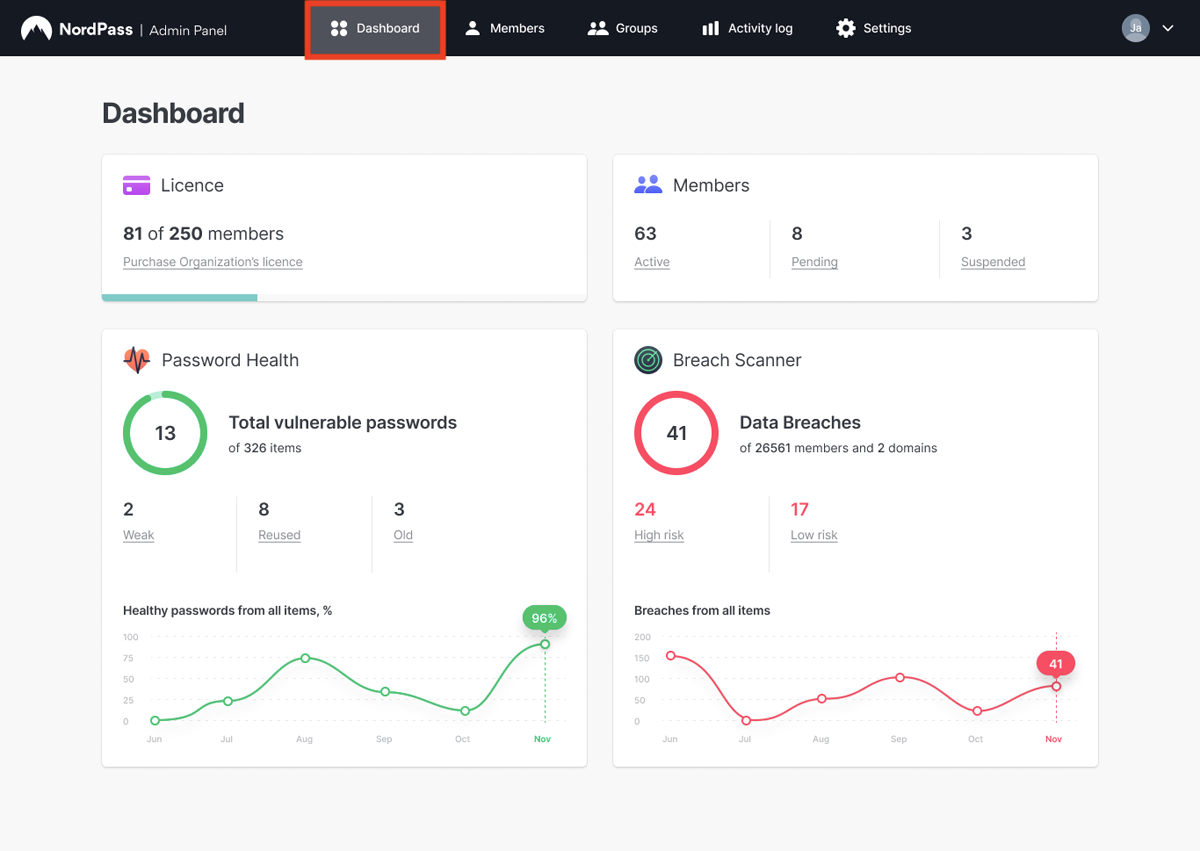 Pricing
NordPass offers a subscription-based service, with different pricing tiers depending on the number of devices you want to use and the length of your subscription. They offer monthly, yearly, and 2-year plans with discounts for longer commitment. NordPass also offers a free version but with limited features and a 30-day money back guarantee for their paid plans. Individual and family pricing ranges from free to $3.69 a month, while business pricing starts at $3.59/user/month.
Features
Unlimited password storage
Autosave and autofill
Password generator
Advanced encryption: XChaCha encryption
Biometric authentication/Passkey
Security Key
Multi-device sync
Secure sharing
Password health
Two-factor authentication
Pros
Strong security
User-friendly
Unlimited password storage
Multi-device sync
Secure sharing
Browser extension
Cons
Limited features for free version
One account per free plan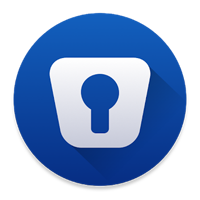 Related: What Is a Passkey? The Future of Passwordless
Enpass
Best free basic features
Enpass is a password management tool that offers several unique features, including a desktop version where you can save unlimited items, vaults, and sync through all your computers. In addition, they offer subscriptions and a one-time purchase for a lifetime use. For improved password security, Epass adds a passkey function. You can create a special passkey so you don't have to remember different passwords. While offering quick access across devices, it also encrypts your data to further increase security.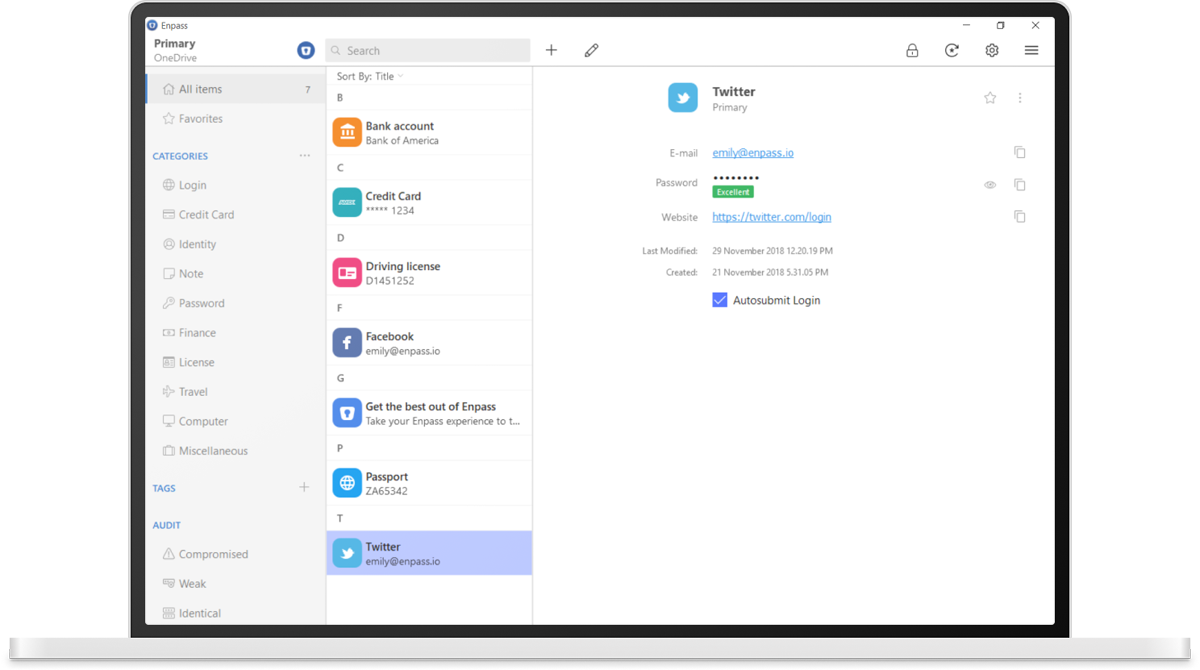 Pricing
Enpass is offering an individual plan of $1.99 a month or $23.99 annually, a family plan of $2.99 a month for the first year and then $47.99 a year. They also have business plans such as a Starter plan of $9.99 per month with up to 10 users, a Standard plan of $2.99 per user per month, and an Enterprise plan of $3.99 per user per month.
Features
Passkey support
Local storage data
Cross-platform availability
One-time payment
Multiple vaults
Password audit
Secure sharing
Pros
Multi-platform support
Uses AES-256 Encryption
Local storage
Generates strong passwords
Generous free features
Cons
Difficult to use for those who are not familiar with how password managers work
Limited autofill
User interface could be better
No cloud syncing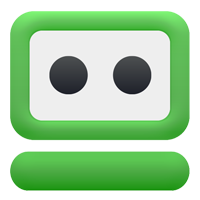 RoboForm
Best management features
RoboForm has been a leading password manager for over two decades, known for its robust security features that safeguard users' sensitive information. This password manager has top-notch features like limitless password storage and a 2FA, and a comprehensive password protection against unauthorized access. Its intuitive user interface is user-friendly and straightforward, making it an ideal choice for both tech savvy and novice users.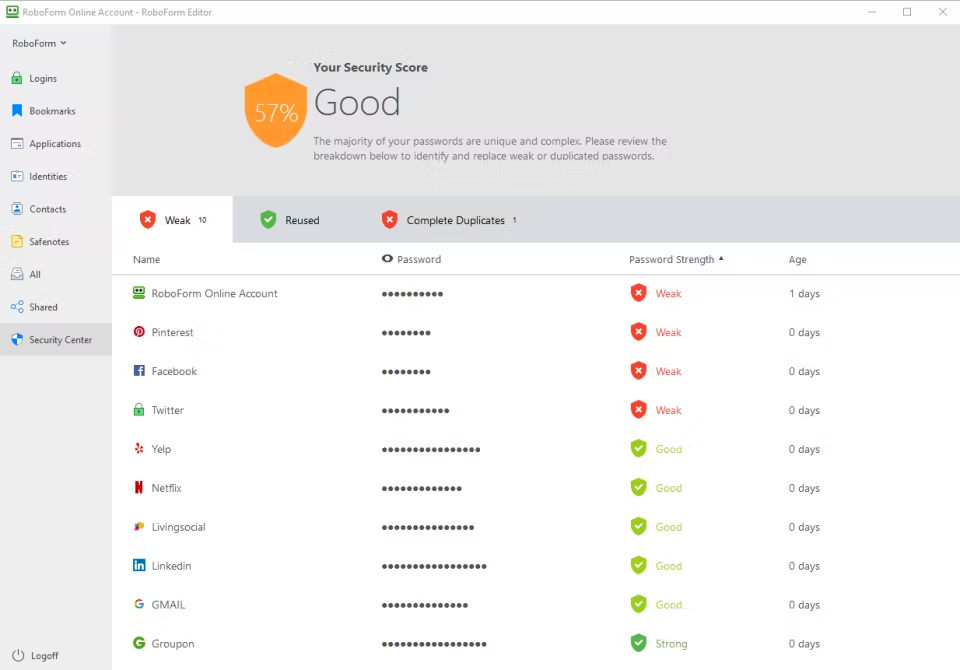 Pricing
RoboForm offers a free plan for one user with access to limited features as well as three premium plans for individuals: a 1-year plan for $35.80, a 3-year plan for $107.40, and a 5-year plan for $179. All individual plans provide access to all features and allow five users per account. For business, there is a five-user account plan available for $3.35 per user per month that is billed annually which also provides access to all features.
Features
Passkey support
Autofill login details
Captures your web login details
Multi-device and website sync
Offline access
Organizes your passwords
User-friendly
CSV import and export
Generates unique passwords
Strong encryption
Stores passwords, web applications, notes, and contacts
Pros
Secure sharing
Convenience
Strong security
Multiple device synchronization and compatibility
Uses time-based one-time password (TOPT) apps
Cons
Synchronization challenges
One user is allowed for the free version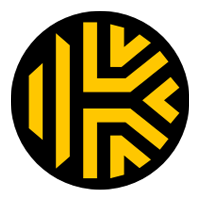 Keeper
Best security features
Keeper offers the most advanced password management features for both individual users and businesses. It has robust security measures since they use a 256-bit AES with PBKDF2 encryption, 2FA, and zero-knowledge security feature. Its intuitive user interface and seamless integration with popular platforms and applications make it effortless to manage passwords across multiple devices and platforms.
In addition to its robust password management capabilities, Keeper provides the convenience of passkey authentication for your accounts. Currently, Keeper is offering passkey authentication as a browser extension and it will soon be available for Android and iOS devices.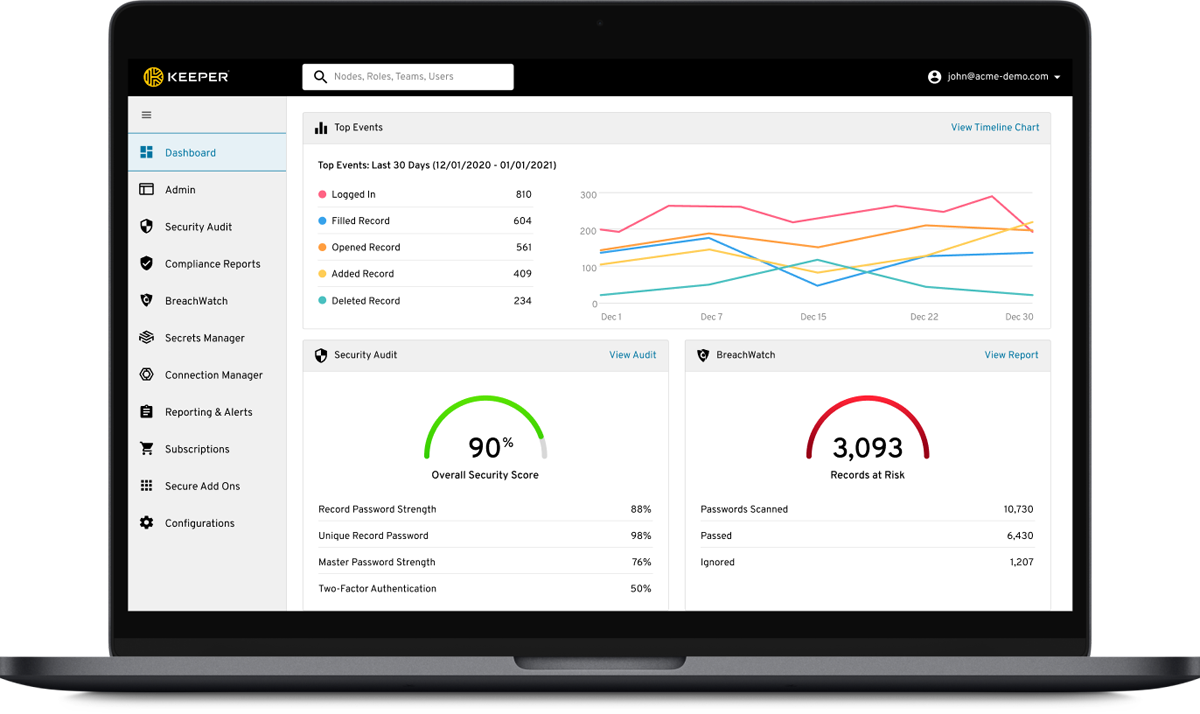 Pricing
Keeper offers a Personal Plan at $24.49 a year for one user and access to limited features, and a Family Plan for $52.49 a year for five users and access to all features. For businesses, there is a Starter Plan for $24 per user per year with a minimum of five users and access to most features, a Business Plan for $45 per user per year with access to all features, and an Enterprise Plan with customized pricing depending on the number of users and features needed.
Features
Passkey support
Password audit
Security incident checker
Breach watch
Encrypted messaging app (Keeper mobile app)
Password recovery
Autofill
One-time sharing
Encrypted file sharing
Emergency access
Offline access
Pros
Customizable policies
Role-based access control
Secure file storage
Identity and access management
Secure chat
Secure digital wallet
Cons
Free trial limitations
It can get expensive

LogMeOnce
Best cross-platform password manager
LogMeOnce offers a unique feature where you don't need to remember a master password. You can use a PIN, biometric, or photo login to access your password vault. Even though it is a "passwordless" password manager, it is rich with security features such as storing and syncing passwords and credit cards across devices with end-to-end encryption, as well as additional features such as cyber threat monitoring and password auditing.
LogMeOnce has been offering passwordless/passkey management since 2011, making it easier for anyone to log in to their online accounts. By eliminating the need to remember complex passwords, LogMeOnce empowers users with a seamless and secure authentication experience.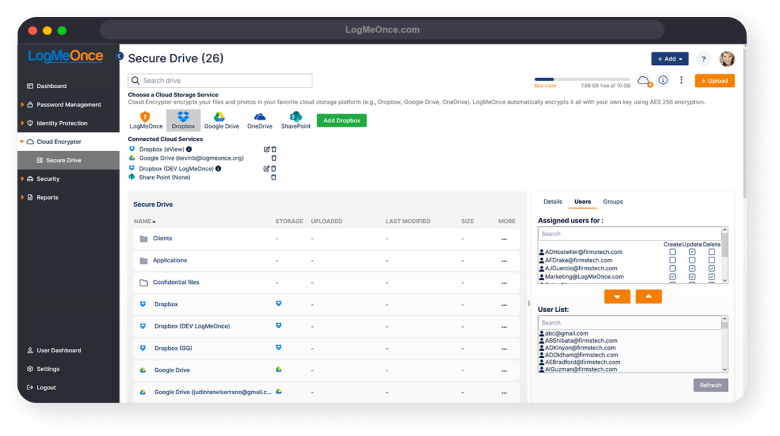 Pricing
LogMeOnce offers a range of pricing options for Password Management, Identity Protection, and Cloud Encryption services. The Premium Free Plan for Password Management allows for unlimited passwords, access to their platform and 2FA. The Family Plan costs $4.99 per month and accommodates up to 6 users with additional features. Business and enterprise owners can opt for the Professional Plan at $2.50 per month, providing access to most features, while the Ultimate Plan at $3.25 per month offers additional features including anti-theft protection.
Features
Biometrics login/Passkey
MFA
Single sign on
User management
Mobile authentication
Access controls/permissions
Knowledge-based authentication
Pros
Pin, Photo, and Biometric Authentications
Unlimited device synchronization on all plans
Decent free version
Multiple login options
Family plan has its own management dashboard
Password encryption
Cons
Dashboard needs improvement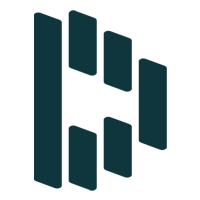 Dashlane
Best add-on features
Dashlane offers an expansive free plan with limitless password storage and live chat support. This comprehensive tool boasts a number of strong features to ensure the safety of user data. Alongside managing passwords, dashlane also offers advanced security options such as a built-in VPN and a security dashboard that warns users about potential data breaches. Dashlane is the first password manager to support them. However, not all websites and apps currently support passkeys for login, limiting their widespread availability. Dashlane is working to help users manage passkeys with websites that support this method. The app currently supports save, storing, logging in, viewing, editing, and deleting passkeys on the web and Android apps, with plans for iOS support in the future. As more websites and platforms adopt passkeys, Dashlane will become more versatile in managing passkeys across various online services.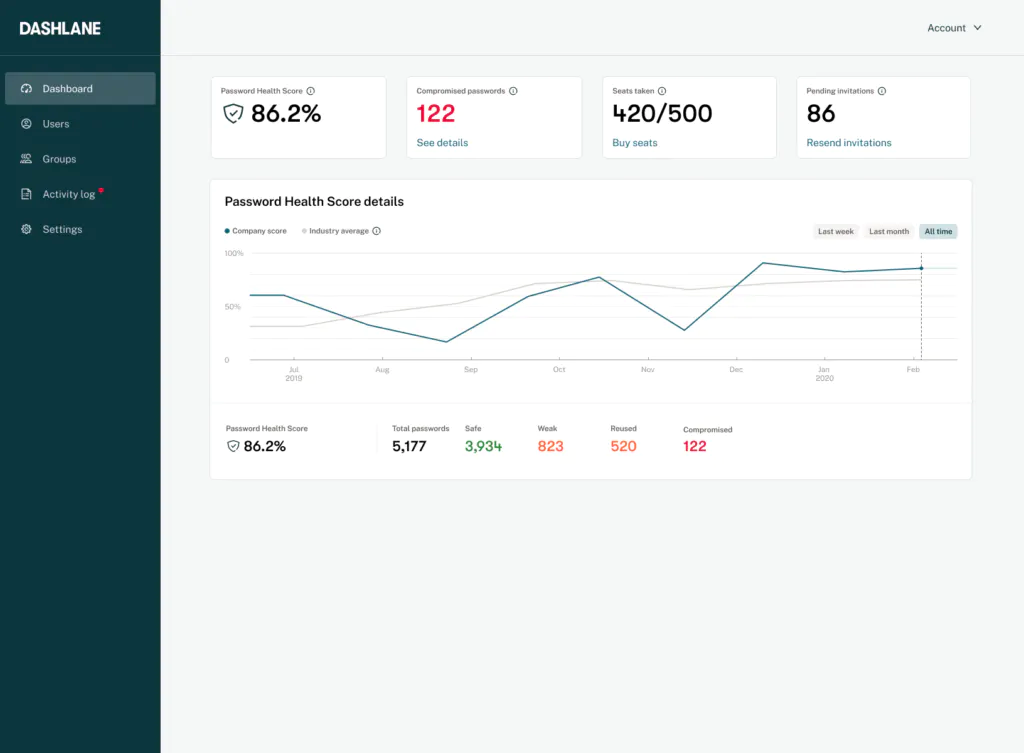 Pricing
Dashlane offers competitive pricing for Personal/Family and Business plans. Under their Personal/Family plan, they have an Advance Plan for $2.75 per month with access to most features, Premium Plan for $3.33 per month with access to all features including a VPN, and the Friends and Family plan for $4.99 per month with up to 10 users per account and access to all premium features with Friends and Family Dashboard. Their Business Plan offers a Starter Plan for $2 per user per month with a minimum of 10 users, Team Plan for $5 per user per month with unlimited number of users and access to all features including VPN. Finally, Dashlane offers a Business Plan for $8 per user per month with unlimited number of users, SSO integration and SCIM provisioning.
Features
Password audit
Passkey support
Emergency access
Password sharing
Advance form filling
Built-in VPN
2FA activation
Pros
Authentication using 2FA
Free plan
Biometric account recovery
Money-back guarantee with all their plans
VPN for their premiums
Compatible with latest browsers
Cons
No desktop app since 2022
Limited free version
Internet dependent
Read more: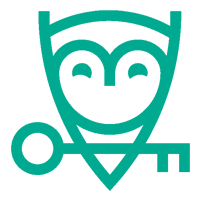 Password Boss
Best for reducing security breaches
Password Boss is a cloud-based password manager that is both user-friendly and highly functional. It has an easy-to-navigate interface and remote wipe feature. Password Boss offers a range of secure features such as secure password sharing, 20-character password generator, and the ability to retain a comprehensive history and passwords. In addition, its comprehensive security dashboard is designed to identify weak, duplicate, and compromised websites to ensure maximum security for all online accounts.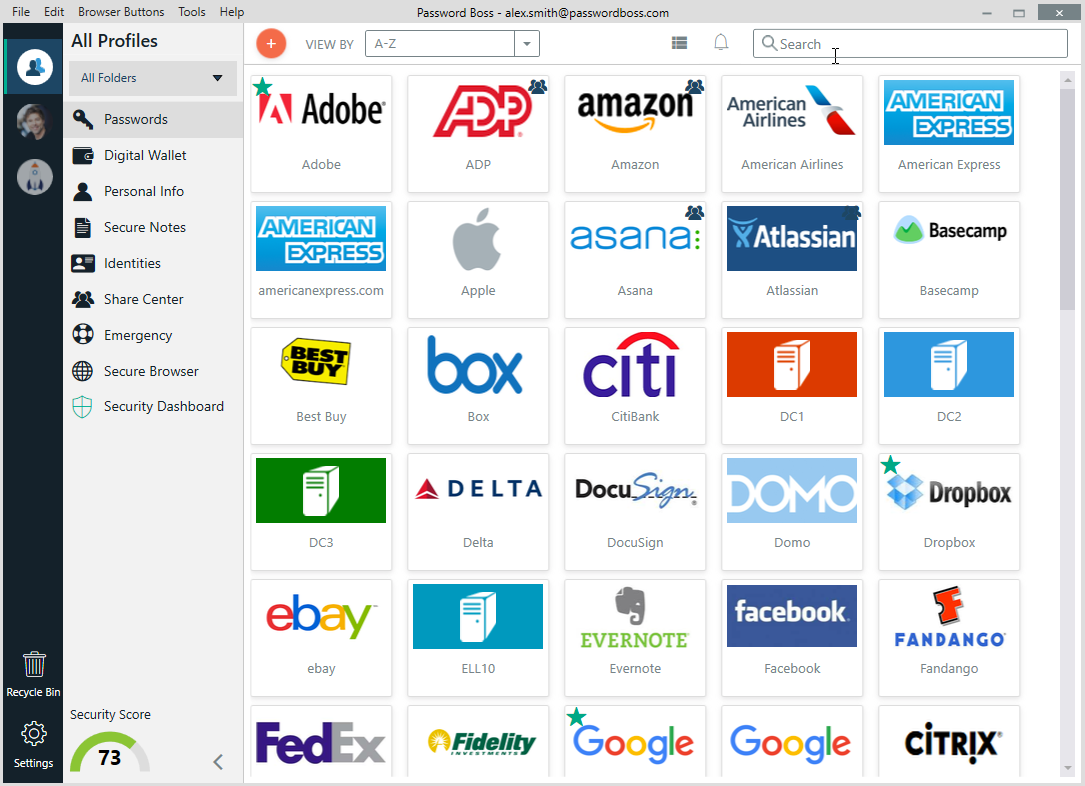 Pricing
Password Boss offers different pricing plans for individuals and businesses. They offer a Free version but it is only available for individuals and has limited features. To access all features, you must subscribe to Password Boss Premium for $2.50 per month, which is billed annually, and $1.53 per month if you choose a three-year subscription. This premium subscription has a 30-day money back guarantee and a 30-day free trial. As for business plans, they offer a Standard Plan for $2 per month per user and an advanced Plan for $3 per month per user where you can customize the features and security policy that your business needs.
Features
Secure password sharing
2FA
Role-based access
Remote control integration
AES-256 and PBKDF2 encryptions
MSP management portal
Multi-device access
Autologins
Pros
New, more secure version will be released in 2023
Refined business-specific features
Robust mainstream capabilities
User-friendly interface
Cons
Limited MFA options
Form filling can be faulty at times
Key Features of Password Manager Software
To ensure the security of login credentials for online accounts, a password manager should offer users the ability to securely store and manage them. In addition, premium password managers even provide users with a personal vault where they can safely store essential information such as credit card details and notes. To choose the best password manager software for your needs, here are some key features you should consider:
Password Generator
A password generator allows users to create strong, unique passwords for each account. Passwords that are generated by a password manager are typically long and complex so they will be harder to crack. These passwords are then stored in the vault for easy access.
Autofill
This feature automatically fills in login credentials when users visit a website or application to save time and reduce risk of typing errors.
Encryption
Password managers use advanced encryption techniques to ensure that sensitive information is kept secure. A military-grade encryption known as 256-bit AES encryption is what most password managers use since it encrypts and decrypts data so only authorized users can access.
Cross-Platform Support
One of the many tasks a password manager should have is cross-platform support that enables users to access their passwords from any device regardless of operating system or platform. This is to prevent the inconvenience of being locked out of an account if the user loses their device or if they need to access their account from a different device.
2FA or Multi-Factor Authentication
2FA or Multi-Factor Authentication gives an extra layer of protection and security by requiring users to verify their identity using a second or third factor of authentication. This can be done either by biometric authentication, OTP, and security questions. Passkey support is increasingly important for authentication.
Password Auditing
Auditing the strength and security of users' password is a critical feature of a password manager. This helps to ensure that users' passwords are strong, unique and secure. This typically works by scanning the passwords stored in the password manager and checking them against a database of known weak, compromised or reused passwords.
These features are essential for a good password manager since they help users create and manage strong, unique passwords so their login credentials and other important data are kept secure. By using a password manager, users can avoid the risk of weak or reused passwords, reduce the risk of identity theft, and make it easier to manage multiple accounts.
See the Best Passkey Solutions for MFA, SSO & Passwordless Authentication
Benefits of Password Manager Software
Working with password manager software offers several advantages and benefits to make your online security easier.
Generates strong passwords for you
Generating complex and unique passwords for each of your online accounts reduces the likelihood of your accounts being hacked due to weak passwords. You don't have to remember all the different passwords for each site, which can be a hassle especially when you try to access your accounts on different devices and platforms.
Stores and secures all your passwords in one place
Password managers provide a secure way to store all your passwords in one encrypted location or vault. This eliminates the need to write down passwords or remember multiple passwords at the same time.
Conveniently autofills your login details
You no longer have to type in your login credentials every time you visit a website. Password manager software can automatically fill in your login details for you to save time and effort and avoid typographical errors.
Individual vaults for employees
If you use a password manager in a business setting, each employee can have their own vault to store their login credentials, ensuring privacy and security. This can also help streamline the login process by auto-filling credentials, saving time and reducing frustration and leading to increased productivity and efficiency in the workplace.
Easy access to accounts across devices and browsers
Password managers provide easy access to all your accounts from any device or browser, allowing you to manage your passwords in one central location without having to search through multiple documents or remember where you stored your login details. This means that you can access your passwords from any device or browser and still maintain secure access to all your accounts.
Secure password or file sharing
Securely sharing passwords or files with a password manager makes it easy to collaborate with family members or team members. You no longer have to worry about sending passwords or sensitive information over unsecured channels like email or messaging systems.
How Do I Choose the Best Password Manager Software for My Business?
Choosing the best password management software for your business involves several factors that you should consider to ensure that you select the most suitable option for your business's needs.
Security
Security should be your top priority when selecting password manager software. Ensure that the service you choose has strong encryption and that it stores your passwords securely. Having multifactor authentication as an extra layer of security is also one of the important features a password manager should have. And look at the solution's security history – LastPass, for example, has suffered a number of data breaches but has pledged to improve security, a hopeful sign for users of that service.
Ease of use
The software should be user-friendly and easy to use for you and your team members. Choose software that has an intuitive user interface and simple to navigate to minimize the learning curve and maximize productivity. Passkeys and passwordless approaches are also increasingly important for ease of use and end user compliance.
Integration
Look for software that integrates with tools and services that you are using in your business such as browsers, operating systems, and communication systems. Integration ensures that the software is seamlessly integrated into your workflow and improves efficiency.
Customization
Each business has its own requirements and needs that password manager software should meet. Look for a service that is customizable and can be tailored to your business' specific needs.
Collaboration
If your team members need to share login credentials or files, look for a password manager that offers secure collaboration features. This software should allow you to securely share passwords, set permissions and access levels and track changes made to passwords you shared.
Pricing
Consider the pricing structure of the software, including the subscription model and any additional fees for add-ons or extra users. The service must be within your budget and should provide value for your money.
How We Evaluated Password Managers
Password managers were evaluated based on security, user interface, features, compatibility, customer support, affordability, history and user reviews. Security features include encryption strength, multi-factor authentication, passkey and passwordless support, and data protection. User interface should be easy to navigate and user-friendly. Features include password generation, strength analysis, secure sharing, autofill, and password syncing across multiple devices.
Bottom Line: Password Managers
Password management tools remain an important first line of cybersecurity defense, protecting you organization, applications and data from weak or stolen credentials while enabling productivity through ease of use and collaboration. Taking the time to find the solution that best fits your business' needs is well worth the time and research.
Further reading:
Get the Free Cybersecurity Newsletter
Strengthen your organization's IT security defenses by keeping up to date on the latest cybersecurity news, solutions, and best practices.