LastPass is a popular cloud-based password manager that allows users to secure, manage, and retrieve their passwords and other confidential information. LastPass offers features such as password autofill, automatic password generation, and form filling. Aside from securing your passwords, it also offers two-factor authentication options such as Google Authenticator, Duo Security, and YubiKey for additional security.
Despite generally robust security measures, LastPass has had a number of security breaches over the years, the latest a security breach that occurred in 2022, in which hackers managed to infiltrate the system and gain access to sensitive information. While the company has taken steps to mitigate the breach, such events can prompt users to seek alternatives. Here are five password management solutions that security buyers can consider as alternatives to LastPass.
Also read: LastPass: Password Manager Review
Dashlane offers features like SSO, password sharing, and directory integration to help you safely manage passwords for your business. Securing your company's data starts with each individual employee. It's why we designed Dashlane to be easy for you to deploy and simple for your team to use—no matter how tech savvy they are.
Try Dashlane Business for free
ADSelfService Plus is an identity security solution providing adaptive multi-factor authentication (MFA), single sign-on (SSO), password self-service, a password policy enhancer, remote work enablement, and workforce self-service. It helps keep identity-based threats out, fast-tracks application onboarding, boosts password security, reduces help desk tickets, and empowers remote workforces. ADSelfService Plus ensures that your employees enjoy secure and seamless access to enterprise resources.

Top LastPass Alternatives
1Password
Best user interface
In addition to having the best user interface, 1Password is a reasonably-priced password manager that boasts an array of outstanding features. This solution offers top-notch security measures like industry-standard encryption and authentication, and is compatible with a range of platforms and browsers, creating a seamless password management experience.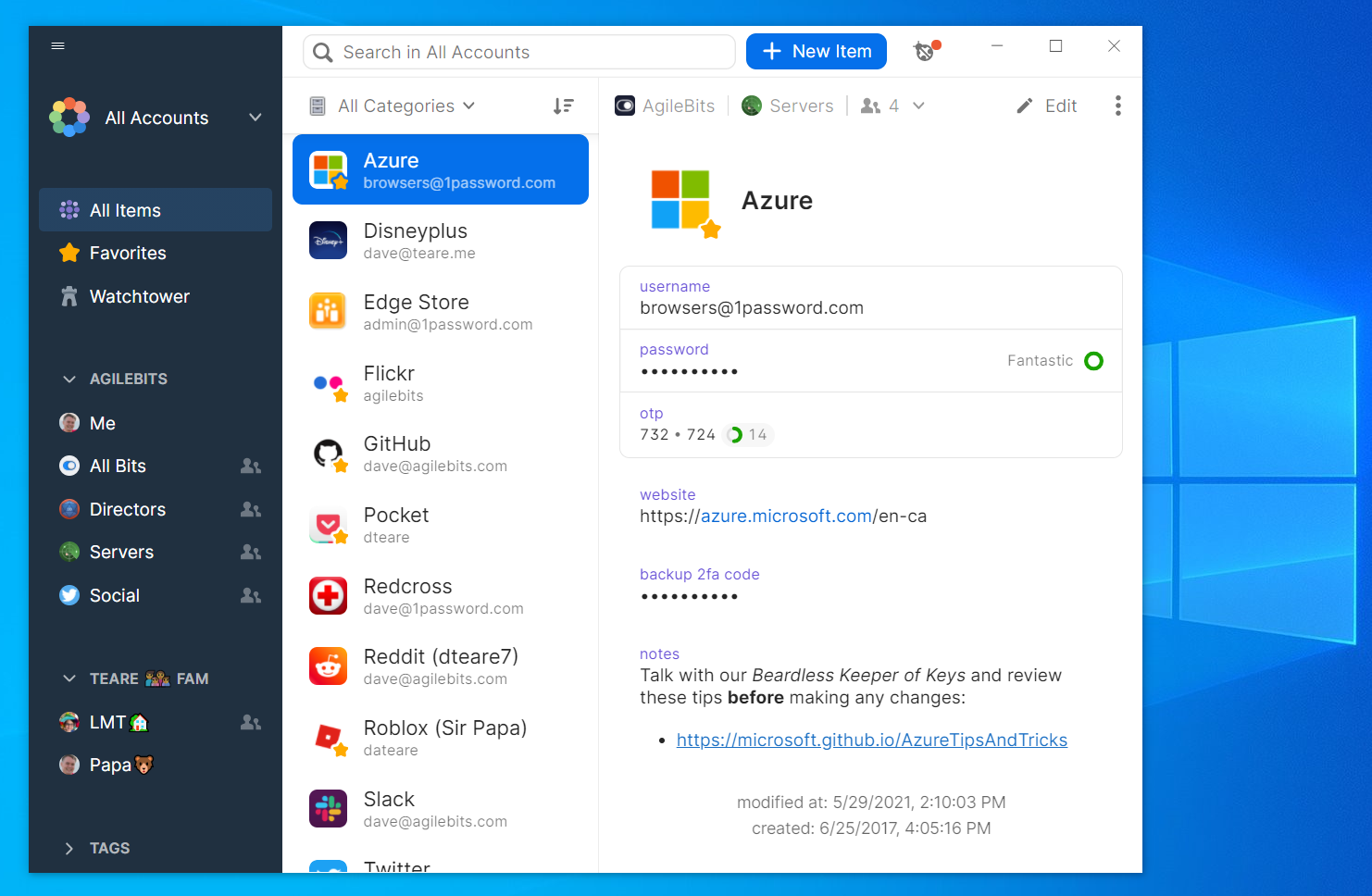 Key features
Secure travel mode
Encrypted sharing
Unlimited devices
Password and username generator
Secrets Automation
Pros
Ease of usage: 1Password offers an easy-to-use user interface, one-click password management, seamless integration, cross-platform compatibility, safe storage, and a private vault. It is available on numerous platforms, making it simple to use regardless of device.
Checks compromised passwords: 1Password has a feature that checks your saved passwords to see if they are compromised. It works by comparing your passwords from its database of compromised passwords and alerts you if there's a match. 1Password will provide you with a list of these compromised passwords so you can change them.
Live chat support: If you are experiencing any issues and want an immediate response, 1Password's live chat support is available for you to utilize.
Travel mode: When you activate Travel Mode, 1Password will remove all of your vaults from your device, except for the ones you specify as "safe for travel." That way, if your device is lost or stolen while you're traveling, your sensitive data is not at risk.
Secure password sharing: You can create a shared vault with other 1Password users, and give them access to specific passwords or documents within that vault. This way, you can share passwords with family members or team members without compromising your network's security.
Advance security measures: 1Password is known for its advanced security measures such as end-to-end encryption, two-factor authentication, and 1Password's Watchtower feature, all of which help protect your sensitive data from hackers and other online threats.
Compatible with latest OSes and Browsers: No matter what device or browser you are using, you can access your 1Password vault and stay organized and secured. 1Password works seamlessly with macOS, Windows, iOS, Android, Chrome, Firefox, Safari, and Edge.
WebDev Integrations: 1Password also integrates with a number of prominent web development tools and services, including GitHub, Bitbucket, Jira, and Slack. These interfaces enable developers to safely store and exchange passwords and other critical information with team members without fear of security concerns or breaches. Furthermore, 1Password provides a command-line tool that enables developers to interact with their 1Password vault via scripts and automation tools, making it easier to manage passwords and other secrets.
Cons
Limited free trial: Compared to other password management solutions, 1Password offers only a 14-day free trial. If you want to take advantage of all of its features, you have to subscribe to a higher-level plan.
Pricing
Personal/Family Plan
Personal
Family
$2.99/Month
With 14-day free trial
$4.99/Month
With 14-day free trial
1 User per account
5 Users per account
Access to limited features
Access to all features
Business Plan
Starter Plan
Business Plan
$19.95/month
With 14-day free trial
$7.99/month/user
With 14-day free trial
Up to 10 users
Number of users depend on company's budget
Access to most features
Access to all features
Also read: 1Password vs LastPass: Compare Top Password Managers
NordPass
Best for consumers
NordPass is a password management solution that allows you to securely store and access all your passwords, credit/debit card details, notes, and other personal information. It uses a "future-proof" encryption for better security compared to the industry-standard 256 bit AES encryption.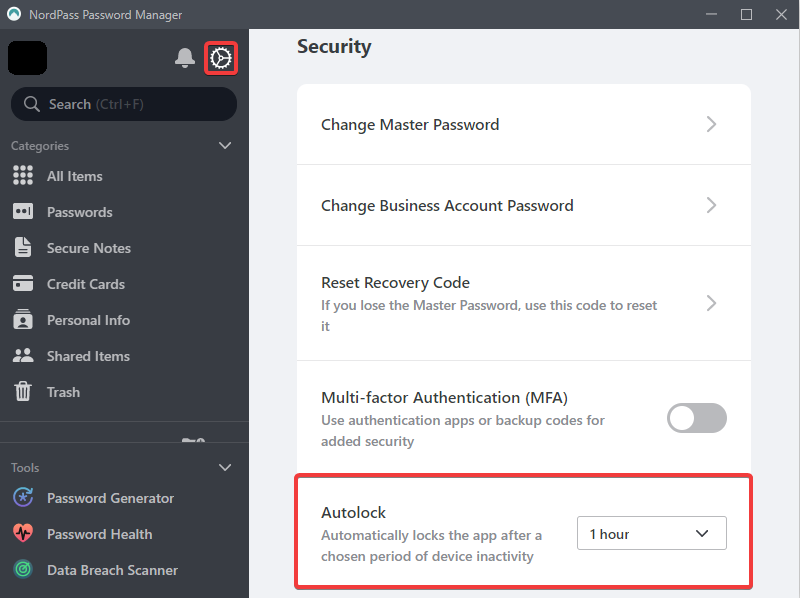 Key features
Unlimited password storage
Autosave and autofill
Password generator
Advanced encryption: XChaCha encryption
Biometric authentication
Multi-device sync
Secure sharing
Password health
Two-factor authentication
Pros
Strong security: Nordpass uses advanced encryption and offers biometric authentication and 2FA to keep your passwords secure.
User-friendly: The user interface of NordPass is clean and easy to use.
Unlimited password storage: Storing an unlimited number of passwords gives you confidence that enables you to utilize the entirety of your digital resources.
Multi-device sync: NordPass is compatible with multiple device types, including Windows, MacOS, Linux, iOS, and Android, for you to easily access your passwords across devices.
Secure sharing: Safely share your passwords with the help of XChaCha encryption between your organization or different users who have authorized access.
Browser extension: Browser extensions allow you to automatically fill-in your information on a registered website.
Cons
Limited features: The free version of NordPass allows you to only have 50 passwords saved. In addition, password sharing can be accessed only if you subscribed to a paid plan.
One account per free plan: Even though their free plan offers up to 50-password storage, it only allows usage of a single email account.
Pricing
Personal Plan
Free
Premium
Family
$0.00 with 30-day premium trial
$1.49/Month or $35.76 for the first 2 years
$2.79/Month or $66.96 for the first 2 years
30-day money-back guarantee
30-day money-back guarantee
1 user account
1 premium user account
6 Premium user accounts
Autosave and autofill

Credit cards and notes storage

Access to all features
Access to all features
Business Plan
| | | |
| --- | --- | --- |
| 1 year plan | 2 year plan | Enterprise plan |
| $3.99/user/year | $3.59/user/year | Price upon request |
| Up to 250 users | Up to 250 users | Unlimited number of users |
| Access to some features | Access to some features | Access to all features |
RoboForm
Best management features
RoboForm is a well-known password manager that has been in the market for the past two decades. It provides users comprehensive security through the use of advanced security features such as limitless password storage and two-factor authentication. Another positive for RoboForm is its uncomplicated user interface, making it simple for users to navigate and use even if they are not tech-savvy.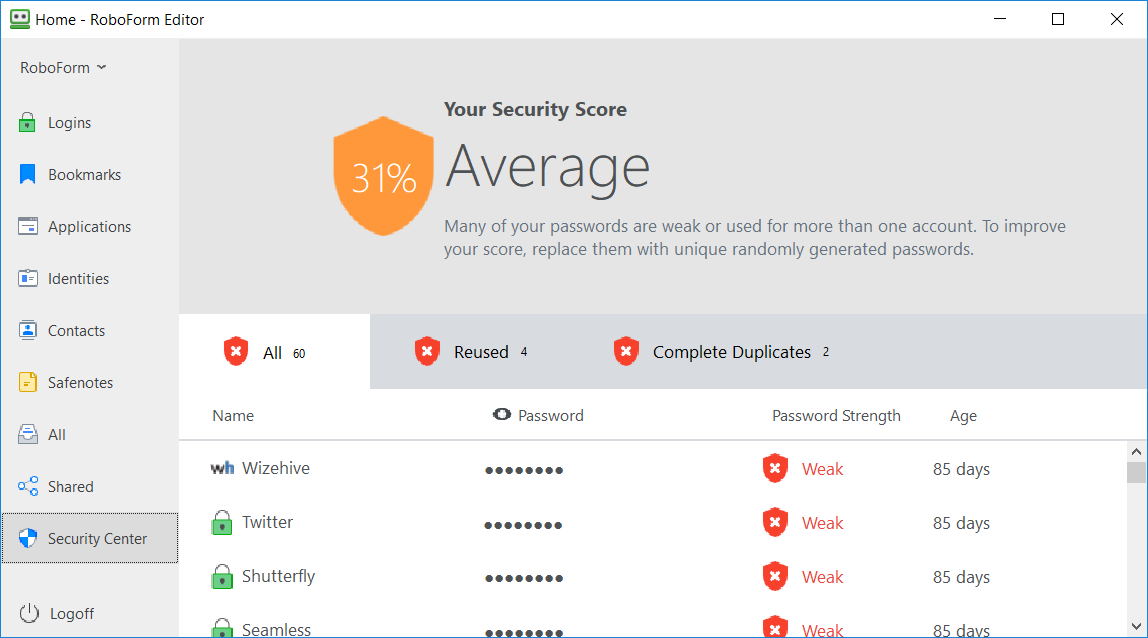 Key features
Autofill login details
Captures your web login details
Multi-device and website sync
Offline access
Organizes your passwords
User-friendly
CSV import and export
Generates unique passwords
Strong encryption
Stores passwords, web applications, notes, and contacts
Pros
Secure sharing: RoboForm allows you to securely share passwords and other sensitive information with trusted or authorized family members or colleagues.
Convenience: You can easily access your data quickly and easily with its one-click autofill feature.
Strong security: To protect your data from unauthorized access or data breach, RoboForm utilizes AES 256-bit encryption in combination with PBKDF2 SHA256 key derivation functions.
Multiple device synchronization and compatibility: You can easily access your password even if you are in a different location and whether you are using Windows, MacOS, Linux or Android.
Uses Time-Based One-Time Password (TOTP) Apps: To add an extra layer of protection to your data, RoboForm supports TOTP apps such as Google Authenticator, Authy, and Microsoft Authenticator.
Cons
Synchronized updates: Users report some synching challenges across multiple devices, but online help is available.
One user per free account: RoboForm allows only one account to access all its free features.
Pricing
Personal/Family Plan
Free
Everywhere
$0.00
1 year for $35.80

3 years for 107.40

5 years for 179.00

1 User per account
5 Users per account
Access to limited features
Access to all features
Business Plan
Company Plan
1 year for $1,048.50

3 years for $2,695.50

5 years for $3,892.50
1 master email account + 14-day free trial for up to 30 users
Access to all features
*Business plans can be customized based on company size*
Keeper
Best security features
Keeper has the most sophisticated password management features in the market. It is a secure password management solution designed to help individuals and businesses protect their digital identities and sensitive data. It uses industry-standard encryption (256-bit AES with PBKDF2 encryption), two-factor authentication, and zero-knowledge security architecture to ensure that all user data is protected at all times. It also offers a range of other security features, such as secure file storage and identity and access management. Additionally, Keeper offers a user-friendly interface and integrations with popular platforms and applications, making it easier to access and manage passwords across multiple devices and platforms.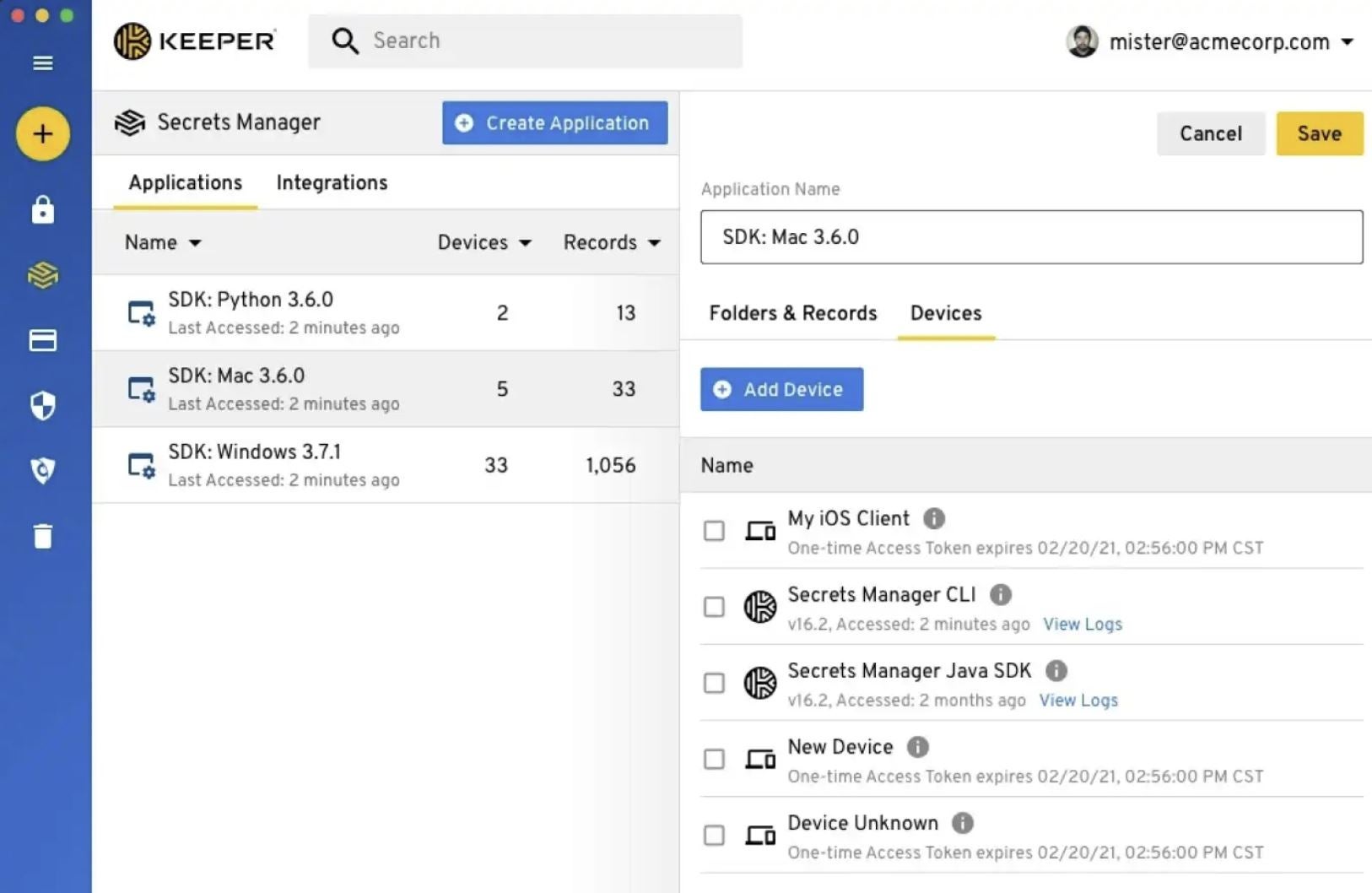 Key features
Password audit
Security incident checker
Breach watch
Encrypted messaging app (Keeper mobile app)
Password recovery
Autofill
One-time sharing
Encrypted file sharing
Emergency access
Offline access
Pros
Customizable policies: Keeper allows you to create custom password policies and enforce them across your organization, ensuring all your employees use strong and secure passwords.
Role-based access control: Keeper enables you to control access to passwords and other sensitive data based on user roles and permissions, ensuring that only authorized users can access the data they need.
Secure file storage: In addition to password storage, Keeper also offers secure file storage, allowing you to store and share files securely.
Identity and access management: Keeper provides a comprehensive identity and access management solution that includes fingerprint or face recognition log-in, single sign-on, multi-factor authentication, and more, helping you to secure access to all your applications and systems.
Secure chat: Keeper's secure chat feature allows you to communicate with team members securely, with end-to-end encryption and message expiration.
Secure digital wallet: Keeper's digital wallet feature allows you to securely store and autofill credit card information, shipping addresses, and other personal information when making online purchases.
Cons
Free trial limitations: To take full advantage of Keeper's security features like Secure Chat, Breach Watch, Secure File Storage, and others, you will have to avail a subscription plan.
Can get pricey: Depending on plan, Keeper can cost more than other options.
Pricing
Personal/Family Plan
| | |
| --- | --- |
| Personal | Family |
| $24.49/year | $52.49/year |
| 1 User per account | 5 Users per account |
| Access to limited features | Access to all features |
Business Plan
| | | |
| --- | --- | --- |
| Starter Plan | Business Plan | Enterprise Plan |
| $24/year/1 user | $45/year/user | Curated pricing |
| Minimum of 5 users | Number of users depend on company's budget | Customized bundles |
| Access to most features | Access to all features | Access to all features |
Also read: Keeper vs 1Password: Compare Password Managers
Dashlane
Best add-on features
Dashlane is one of the most popular password managers in the market, and is known for its generous free plan that offers unlimited password storage and live chat support. Its robust options include a variety of unique features that help users keep their online information secure. Aside from password management, Dashlane also provides other security features such as built-in VPN, and a security dashboard that alerts users of potential data breaches.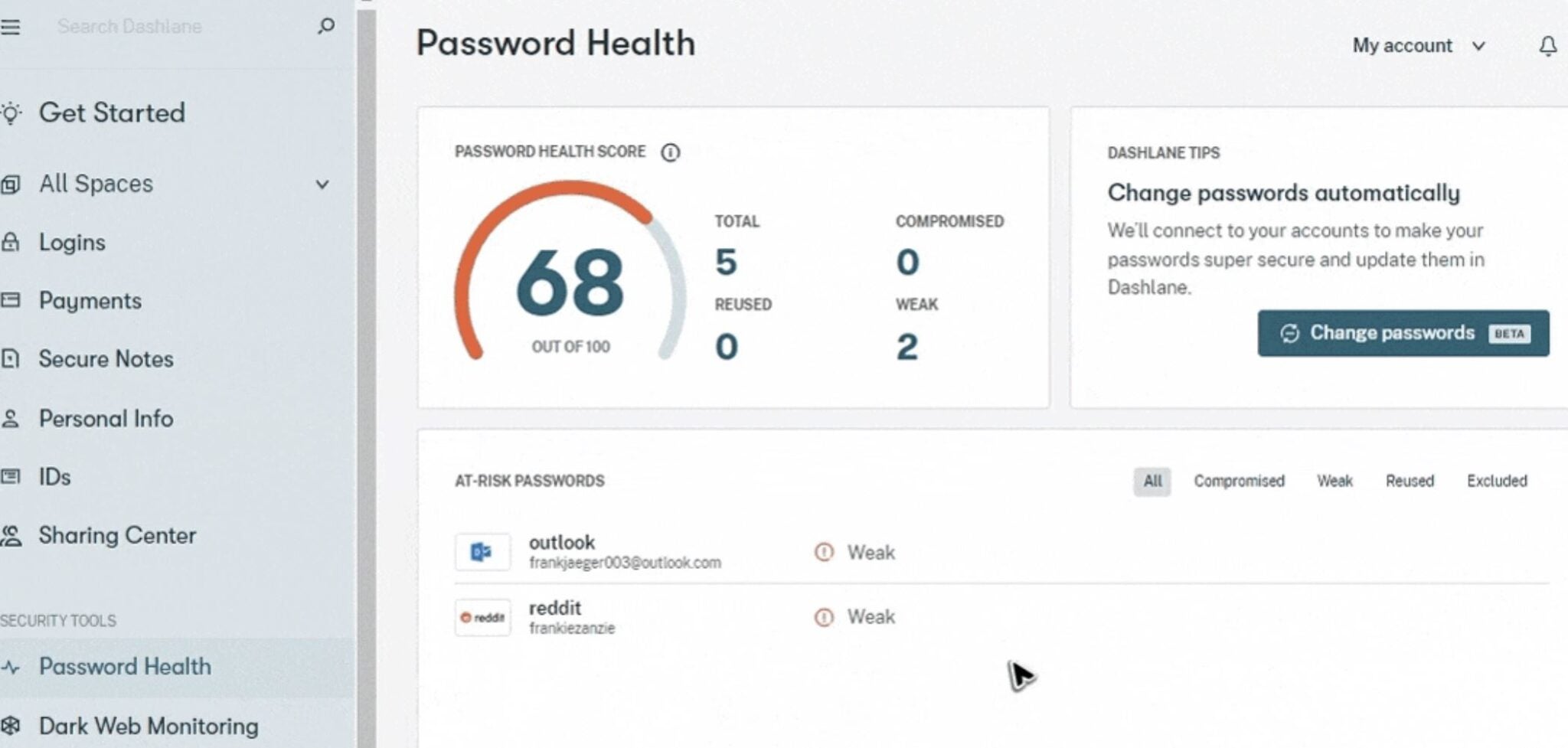 Key features
Password audit
Emergency access
Password sharing
Advance form filling
Built-in VPN
2FA activation
Pros
Authentication using two factors (2FA): Dashlane's 2FA feature requires that in addition to your password, you will need to provide another form of verification, such as a code sent to your phone, before gaining access.
Free plan: Dashlane offers a free plan that allows you to store up to 50 passwords and use them across one device. This is a great way to try out the service and see if it meets your needs before committing to a paid plan.
Biometric account recovery: In case you forget your master password, Dashlane provides biometric account recovery, meaning you can regain access to your account using a fingerprint or facial recognition.
Personal and family plans come with a 30-day money-back guarantee: If you are not satisfied with Dashlane's personal or family plan within 30 days of purchase, you can request a refund.
VPN: Dashlane's premium plan includes a VPN service that encrypts your internet connection and protects your online privacy.
Compatible with the latest browsers: Dashlane is compatible with the latest versions of popular web browsers, ensuring you can use it without any compatibility issues.
Cons
No desktop apps: Since January 2022, Dashlane has phased out its desktop application, and now, to access your account, you can utilize any of the leading web browsers, including Chrome, Firefox, Edge, and Safari.
Limited free version: The free version of Dashlane has a limited number of features and can only store up to 50 passwords. To have unlimited password storage, you need to subscribe to one of their premium plans.
Internet connectivity: You need to be connected to the internet to use Dashlane, so if you're in a location with poor internet connectivity, you may not be able to access your passwords.
Pricing
Personal/Family Plan
| | | | |
| --- | --- | --- | --- |
| Free | Advance | Premium | Friends and Family |
| $0.00 | $2.75/month | $3.33/month | $4.99/month |
| 1 device at a time | Access to all devices | Access to all devices | 10 users per account |
| Access to limited features | Access to most features | Access to all features including VPN | Access to all premium features with Friends and Family Dashboard |
Business Plan
| | | |
| --- | --- | --- |
| Starter Plan | Team Plan | Business Plan |
| $2/user/month | $5/user/month | $8/user/month |
| Minimum of 10 users | Unlimited number of users | Unlimited number of users |
| Access to most features | Access to all features including VPN | Access to all Team Plan features with SSO integration and SCIM provisioning |
Also read: Dashlane vs LastPass: Compare Top Password Managers
How To Choose a Password Manager
Selecting a password manager ultimately depends on your specific needs and the extent of data you wish to protect. Given the vast array of options available, it's vital to carefully weigh certain factors in determining the ideal password manager for your personal or business use.
Here are some factors that you need to consider when choosing a password manager:
Security: When selecting a password manager, the most crucial element to consider is security. Look for a password manager that protects your data with robust encryption and at least two-factor authentication. You can even choose the ones with biometric authentication for extra security.
Features: Since different password managers have different features, it is critical to select the one that provides the capabilities that you need. Look for features such as automated password generation, browser integration, and the ability to store and safeguard critical and sensitive information such as personal information and credit card numbers. Businesses will want solutions that can be centrally managed.
User interface: A decent password manager should be easy-to-use and navigate. Look for a password manager with a clean, clear, and easy-to-understand user interface.
Compatibility: Ensure that the password manager you select is compatible with all your devices. This includes your PC, smartphone, and tablet, since some password managers may be limited to specific platforms and devices.
Reputation: Consider a password manager with a strong reputation and a track record of securing user data. Before making a selection, be sure to read reviews and conduct thorough research.
Pricing: Many password managers provide free trials, allowing you to gain insight into the workings of its features and determine if they align with your requirements and expectations. It is wise to consider your budget before committing to a password management subscription.
By evaluating all these considerations, you can choose a password manager that will help you protect your sensitive information and simplify your life online.
Bottom Line: LastPass Alternatives
Given the data breach experienced by LastPass in 2022, some users have considered finding a new password manager to ensure the protection of their logins and sensitive information stored online. While a breach could happen to any password manager, there are several LastPass alternatives available that can cater to both personal and business requirements.
Among the top contenders, which one you choose will be driven largely by the features that are most important to you or your organization. Whether you're looking for a personal or business solution, look for a seamless and hassle-free experience that can help safeguard your valuable data and ensure employee compliance.
Read next: Secure Access for Remote Workers: RDP, VPN & VDI
Get the Free Cybersecurity Newsletter
Strengthen your organization's IT security defenses by keeping up to date on the latest cybersecurity news, solutions, and best practices.