Dashlane and 1Password are two of our top picks for password managers in 2021. They offer many similar features, including password generation, automatic form-filling, password analysis, and dark web monitoring. Both tools make it easy for users to create and store passwords and share them safely with other users.
If you're reading this, you're probably wondering which password management tool you should choose. The answer depends entirely on the features you find most important, and our comparison will help you determine which solution is best suited to meet your needs.
Dashlane and 1Password comparison
Although Dashlane and 1Password are similar, there are a few distinctions worth making when it comes to:
Mobility
1Password's mobile app is simple and easy to navigate. You can add as many categories as you need to organize all of your online accounts, documents, and other security details. You can also create tags to group related items, like financial information and social media accounts, or favorite items you use frequently. 1Password supports one-time passwords (OTP) within the app, so you can keep everything you need to access your accounts in the same place.
Dashlane's mobile app is also very easy to use, but its design and functionality make it a bit more sophisticated than 1Password. Like its competitor, Dashlane allows you to separate your passwords, bank details, and personal information like drivers license and passport numbers. Instead of favorites, it has a navigation section for items you've accessed recently.
Where the Dashlane app really shines, however, is the Identity Dashboard. You can use this feature to review Dashlane's Dark Web Monitoring information and address the weak or compromised passwords it detects directly from your mobile device. This functionality plus the clean design put Dashlane's app a step ahead of 1Password.
Winner: Dashlane
Security
1Password and Dashlane employ many of the same security features, like 256-bit AES encryption and two-factor authentication. They both also allow users to customize the criteria for generating new randomized passwords, including length, character types, and readability.
Dashlane encrypts users' master passwords using PBKDF2, whereas 1Password uses its own method for creating fully encrypted access. 1Password uses a unique 34-digit Secret Key that's stored on the user's devices and works in combination with the master password during the login process.
Neither tool supports biometric authentication other than facial recognition via smartphone. They also don't have any solution for passwordless authentication. If those are capabilities you want in your password management software, consider an alternative like LastPass or a whole identity and access management (IAM) tool like OneLogin.
1Password and Dashlane are neck and neck when it comes to security, but the fact that 1Password uses a proprietary method for master password encryption gives it a slight advantage.
Winner: 1Password (narrowly)
Admin controls
Especially for larger enterprises, the ability to monitor password health for everyone in your organization is a must-have. Both Dashlane and 1Password offer dashboards to view company-wide activity, onboard employees, and manage groups for everyone in your organization.
However, 1Password takes these functionalities a step further with reporting capabilities. You can run reports for individual team members, individual vaults, or your entire team. Or, run a report for your whole business account to see what's happening from a bird's eye view. This helps you monitor who has access to your most valuable resources, what devices they're using to gain access, and what actions they take with those credentials. The reporting functionality can be particularly useful if your business is subject to strict regulations and compliance audits. This feature sets 1Password apart when it comes to admin controls.
Winner: 1Password
User friendliness
Both 1Password and Dashlane offer interfaces that are easy to navigate for users with limited technical knowledge. Both platforms support web apps and extensions for all major browsers, including Safari, Edge, Chrome, and Firefox. In addition, 1Password offers desktop applications for macOS, Windows, Linux, and Chrome OS. 1Password also has a command line tool for all other operating systems. Although Dashlane doesn't offer a desktop application, you can still use the web-first version to access your account offline if you've already registered the device you're using.
Both platforms do a good job of organizing passwords, notes, and other items, but it's a bit easier to get lost in 1Password's UI if you're not familiar with it. Private vaults are entirely separate from shared vaults, which could be frustrating or confusing if you're constantly switching between vaults. Additionally, the web app is clunky and doesn't resemble the desktop or mobile apps at all. Some users have also expressed frustration with how often 1Password requires users to enter their master passwords.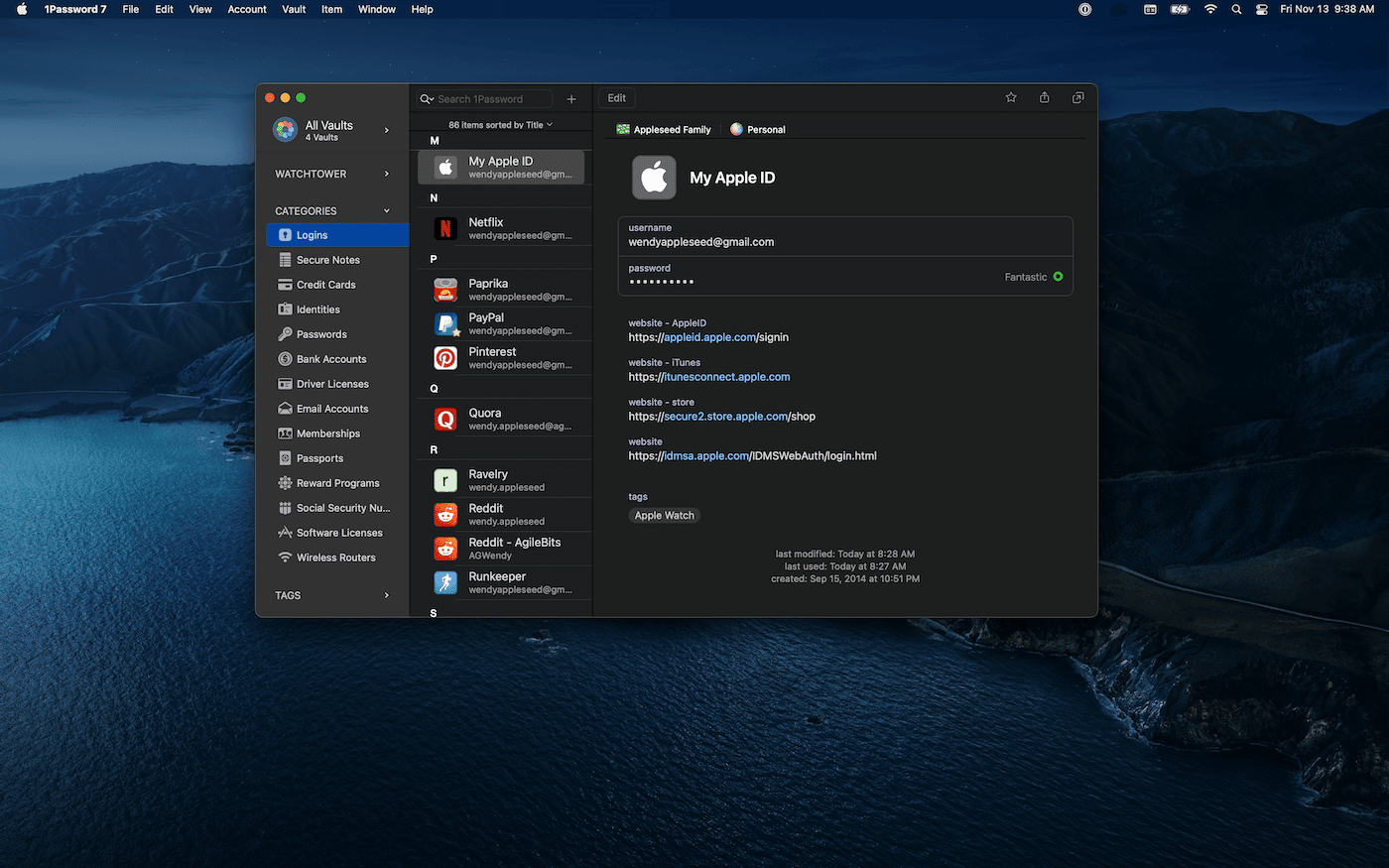 Image: 1Password desktop and web apps on macOS
On the other hand, Dashlane's interface is clean, intuitive, and consistent across the mobile app, web app, and browser extension. Dashlane also supports SAML-based single sign-on (SSO). This feature reduces the number of passwords each user needs to manage and simplifies the login process as a whole. 1Password integrates with third-party SSO tools, but that means you'll need to manage (and pay for) a separate application. Dashlane also allows users to automatically update all at-risk passwords with one click instead of addressing each vulnerability individually.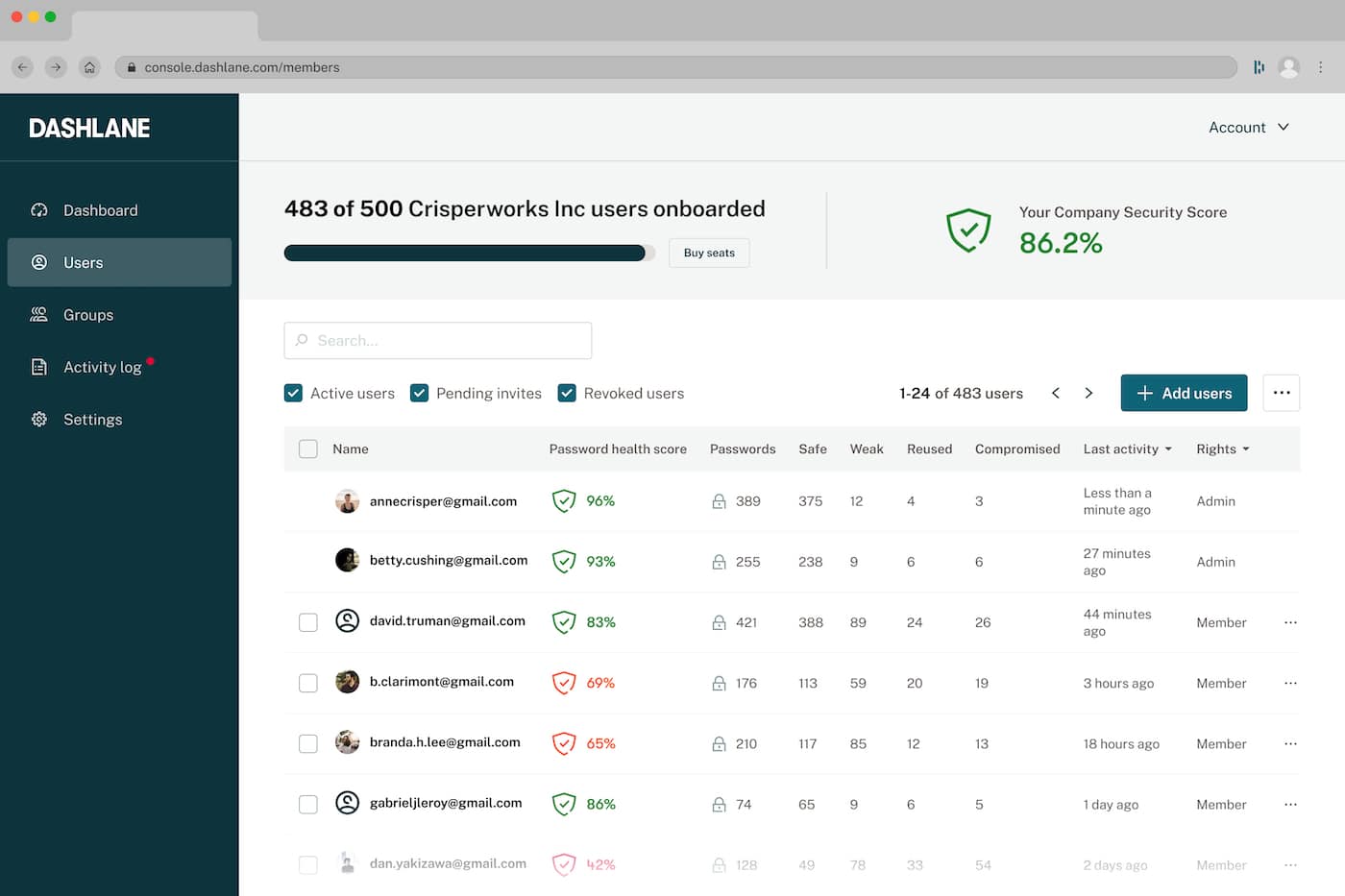 Image: Dashlane web app
Compared to 1Password, Dashlane's user friendliness takes the lead because of the user-focused features it offers.
Winner: Dashlane
Pricing
Dashlane's pricing is straightforward, with the Team option at $5/user/month and the Business option at $8/user/month. With either option, you can start with a 30-day free trial before adding any payment information. Dashlane Team offers each user a free Premium personal account, and Business users get a free family plan plus support for SSO.
1Password's pricing structure is comparable to Dashlane, with two major differences. First and foremost, 1Password's Teams edition is available for $3.99/user/month. This is a clear advantage for customers who are looking to save as much money as possible, although 1Password does not offer users a free personal account with this plan. The 1Password Business edition is available at the same price point as Dashlane Business and includes many of the same features except SSO support.
Second, 1Password offers a third Enterprise package for large organizations. With this plan, customers get a dedicated account manager, personalized setup training, and an onboarding engineer. Pricing for this plan is not readily available, but the base-level affordability and the option to have a more hands-on onboarding experience gives 1Password an edge over Dashlane when it comes to pricing.
Winner: 1Password
Customer support
Customer support is a critical component of successfully implementing a new password manager. The whole tool is rendered useless if you can't find answers to your questions or speak to a representative when you encounter a complex issue. Dashlane and 1Password both provide multiple channels to address customer issues, but Dashlane doesn't charge more for "VIP" support.
Dashlane Team and Business users alike have access to live chat support, 24/7 email support, and technical onboarding support, plus a dedicated Customer Success Manager if there are more than 50 users on the same plan. In contrast, 1Password Teams users only have access to 24/7 email support. To get anything else, users must pay more for the 1Password Business or Enterprise editions. For this reason, Dashlane's egalitarian customer support offering beats 1Password's tiered support.
Winner: Dashlane
Choosing the right password manager
Both Dashlane and 1Password are strong offerings in the password management software market. Ultimately, deciding which solution is best for you comes down to what features and capabilities you value most.
Dashlane is an ideal solution if you're looking for a user friendly tool with a consistent interface that you can use to make the login process easier for your employees. On the other side, 1Password is the right choice if you want more admin controls to manage your organization at a more affordable price point.
To compare these solutions with other industry-leading password managers, check out our lineup of the Best Password Management Software & Tools.
Get the Free Cybersecurity Newsletter
Strengthen your organization's IT security defenses by keeping up to date on the latest cybersecurity news, solutions, and best practices.