Sophos and Fortinet both appear on our list of the top next-generation firewalls (NGFWs), and while both offer very good security at their price points, they serve very different markets.
What follows is a look at the key features and strengths and weaknesses of each solution. Which one is best for you will depend on your security and throughput needs – and budget.
Before we get into the details, here's a high-level analysis of the use cases each vendor serves best:
Sophos XGS firewalls products provide a good balance of value and security and are particularly suited to SMEs.
Fortinet is good for appliance-based distributed enterprise and branch office needs.
Fortinet FortiGate firewalls offer solid security for organizations of all sizes, with hardware and cloud-based solutions available in various configurations and price points and are higher rated in analyst reports.
If you're just looking for a firewall with good security, Sophos will do.
Fortinet may cost more but offers a greater breadth of features and enterprise-grade functionality.
Sophos Firewall vs Fortinet FortiGate NGFWs at a Glance
Here's how Fortinet and Sophos NGFWs compare at a glance:
Pricing
Sophos
Ease of Deployment
Sophos
Ease of Use
Sophos
Security
Fortinet
Service and Support
Fortinet
Network Firewall Use Cases
Fortinet
Best for Small Businesses
Sophos
Best for Cloud Use Cases
Fortinet
Breadth of Features
Fortinet
Overall Capabilities
Fortinet
Best for Pricing: Sophos
Fortinet pricing isn't broadly available, but its products are priced at the higher end of the scale while Sophos prices are generally lower.
FortiGate entry-level/branch F series appliances start at around $600. Midrange/campus devices start at roughly $3,600 for the 100F (and can be found for less). Midrange prices can go a lot higher than that, depending on the model and SKU. The very high-end 520 Gbps FortiGate 7121F can cost $1 million or more with support and enterprise protection.
Fortinet offers virtual firewalls too for hybrid cloud use cases. At the heart of Fortinet's Security Fabric, the Fortinet FortiGate Next-Generation Firewall is offered with threat subscription bundles that include web, content, and device security. Bundling helps to lower the TCO of Fortinet tools.
Pricing for Sophos Firewall starts at around $250 per year for complete protection on the entry-level XGS appliance – additional pricing is based on performance and features required. The XGS 2100 Distributed Edge series at around $2,000, while the high-end enterprise XGS 8500 with Xstream protection can cost around $500,000.
The most recent cloud network firewall tests by Cyber Ratings found Fortinet to be about 50% more expensive per year than Sophos. Sophos also came out on top in price per Mbps.
Best for Deployment and Ease of Use: Sophos
In Gartner Peer Insights reviews over the last year, users gave Fortinet a 4.5 for Integration & Deployment, slightly ahead of Sophos. Balancing things up, Gartner Peer Insights placed Sophos Firewall slightly ahead in several areas, including strength in service, support, and contracting. For use cases requiring central management, Fortinet's management tools have a clear edge over Sophos tools in terms of deployment.
Gartner noted in its December 2022 Magic Quadrant: "Fortinet offers mature on-premises and cloud-based centralized management through FortiManager and FortiCloud, respectively. These offerings have feature parity and support centralized management of the majority of Fortinet's devices. FortiGate customers like the ease of management and configuration of Fortinet's firewalls."
For less sophisticated environments where centralized management is less critical, Sophos has the edge in deployment and ease of use.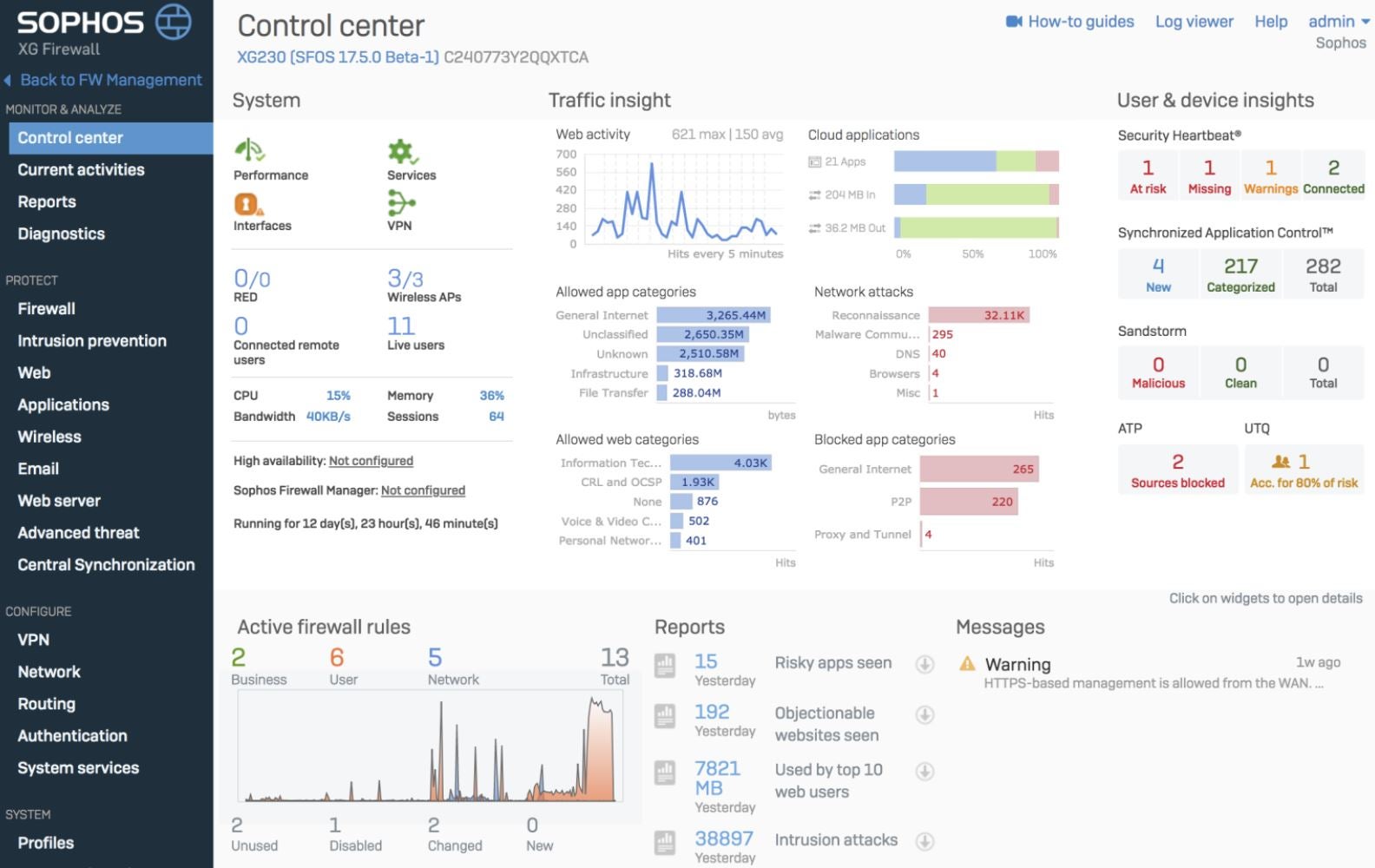 Best for Security: Fortinet
Both vendors offer strong security; they are, after all, long-established players in the overall cybersecurity market.
Sophos Firewall provides intrusion prevention, advanced threat protection, cloud sandboxing, dual AV, Web and app control, email protection and a full-featured Web application firewall.
Sophos' Synchronized Security links endpoints and firewalls to enable them to communicate and share information, identify compromised systems, and isolate them until cleaned up. It includes reporting at no extra charge, with the option to add Sophos Central Reporting for centralized reporting across multiple firewalls. Hundreds of reports can be generated automatically with customizable parameters such as traffic activity, security, applications, Web, networking, threats, VPN, email and compliance.
The newest version of the Sophos Firewall adds Xstream SD-WAN (software-defined wide area network) capabilities and VPN enhancements that significantly boost network performance and flexibility. New capabilities include FastPath acceleration of IPSec VPN traffic, central SD-WAN orchestration, a new SD-WAN link management solution based on link performance, and enhanced monitoring and logging tools.
FortiGate converges networking and security. It combines SD-WAN, a LAN Edge controller, 5G controller, Zero Trust Network Access (ZTNA) enforcement. Centralized management of FortiGate comes in all form factors, from on-premises hardware and VMs, public and private cloud, and SaaS-based management and analytics.
The company's FortiOS operating system provides a view of devices, traffic, applications and events throughout the network, offering visibility beyond Layer 3 and Layer 4 port and protocol matching. Layer 7 inspection capabilities provide application control, including application signature matching and heuristic analysis of application behavior.
Good performance comes courtesy of ASIC-based appliances. Management via FortiManager enables scaling of large deployments. A redundant architecture approach eliminates single points of failure. Some models have multiple 100 GbE and even 400GbE interfaces with throughput of more than 2.4 Tbps.
Additionally, FortiCNP (cloud-native protection platform) is integrated with Cloud Service Providers' (CSP) security services and Fortinet's Security Fabric to deliver full-stack cloud security. Risk Resource Insights (RRI) technology contextualizes security findings and prioritizes critical resources. There are also new FortiGate 70F, 600F, 3000F and 4800F series firewalls. The 600F, for example, brings hyperscale capabilities to the campus, along with 10Gbps of threat protection, low latency, and device protection for operational technology (OT) and Internet of Things (IoT) environments.
Independent firewall tests are becoming a little dated, but in cloud network firewall tests last year, however, Fortinet came out well ahead of Sophos in terms of throughput and overall rating (AAA compared to A).
Nevertheless, Sophos Firewall products provide a good balance of value and security for SMEs, with a wide range of functionality, including a Web application firewall, a secure Web gateway, email protection, ransomware protection and phishing protection. One downside of the solution is a lack of integration with third-party endpoint detection and response (EDR) tools. Thus, Fortinet wins in this category despite the compelling value of Sophos.

Best for Cloud and Complex Use Cases: Fortinet
Fortinet's FortiGate NGFWs are available as an appliance, virtual machine, or cloud container, all run by the same operating system (FortiOS) and are available across all leading public cloud platforms with unified management.
Fortinet may be best for organizations looking for appliances for distributed and branch office use cases, but it also offers very impressive performance too, for large enterprise and mission-critical deployments. It came out well ahead of Sophos Firewall in use cases such as enterprise data centers and distributed enterprises. FortiGate also scored better for SMB security, although Sophos was only a little behind and is a more affordable solution for small businesses.
Gartner notes that mesh frameworks like the Fortinet Security Fabric help businesses avoid complexity. With vendor consolidation and IT simplification in mind, Fortinet has continued its successful strategy of building integrated products on a single FortiOS operating system. It has an open ecosystem of over 500 third-party integrations. The company offers good support options for customers such as FortiCare.
As a Gartner Magic Quadrant Leader, Fortinet is rated well in the SMB and enterprise space. It earned kudos, too, for advanced networking, product strategy, its product roadmap, and good price/performance. However, Gartner is critical in areas such as market execution, the omission of a container firewall, cloud product offerings, and some FortiOS-related vulnerabilities that have been flagged by the Cybersecurity and Infrastructure Security Agency (CISA). The analyst firm noted that Fortinet acted fast to fix these vulnerabilities.
Sophos Firewall is available in a variety of hardware models, for popular virtualization platforms, as a software appliance for x86 hardware, and in Microsoft Azure.
But Gartner seems conflicted about Sophos. It named the company a 2022 Gartner Peer Insights Customers' Choice for Network Firewalls, and is the only vendor named a Customer's Choice for both Firewalls and Endpoint Protection Platforms. Yet Sophos is a mere Niche Player in a Firewall MQ. Gartner calls out strengths such as good integration between Sophos' firewall and endpoint (Synchronized Security) tools.
The analyst firm hears good things from users about their experience with Sophos Firewall, as well as its sales approach and pricing strategy. But Gartner continues to question Sophos Firewall's capabilities in a large enterprise setting, as well as its product strategy, and virtual configuration capabilities.
Top Fortinet & Sophos Alternatives
Fortinet firewalls aren't for everyone, particularly the price conscious. Similarly, Sophos firewalls work well for certain users but may lag in terms of performance, throughput and breadth of functionality and management for the high-end of the enterprise market.
Worthy alternatives include Check Point, Palo Alto Networks, Cisco, Juniper, SonicWall, and Forcepoint. As the only other Magic Quadrant leaders, Palo Alto and Check Point are good for high security and enterprise needs, while Cisco, Juniper, SonicWall, and Forcepoint may offer good value too.
AppTrana is a fully managed Web application firewall, that includes Web application scanning for getting visibility of application-layer vulnerabilities; instant and managed Risk-based protection with its WAF, Managed DDOS and Bot Mitigation service, and Web site acceleration with a bundled CDN or can integrate with existing CDN. All of this backed with a 24×7 Managed Security Expert service to provide custom rules and policy updates with zero false positive guarantee and promise.
See our full list of the Best Next-Generation Firewall (NGFW) Vendors for additional buying guidance.
How We Evaluated Fortinet vs Sophos NGFWs
For our analysis, we evaluated firewall features, product breadth, performance and security test data, vendor specs, pricing data from resellers, use cases, analyst reports, user reviews, and overall vendor strength and vision.
Real-world performance can, of course, differ from product and lab specs. And no security product can stop everything, so defense-in-depth and layered detection and response technologies are things every organization needs.
The Bottom Line: Fortinet vs Sophos
The differences between Fortinet and Sophos are significant. Fortinet has the edge on overall capabilities, the sheer breadth of its offerings, support, and centralized management. Fortinet is particularly good for appliance-based distributed enterprise and branch office needs. Its tools can granularly control video content to achieve stronger regulatory compliance using intelligence from FortiGuard Labs.
Consider, too, that Fortinet FortiGate Next-Generation Firewalls are ranked highly in Gartner's Critical Capabilities for Network Firewalls, as well as in the most recent Gartner Magic Quadrant (MQ) for firewalls. It came out well ahead of Sophos Firewall in use cases such as enterprise data centers and distributed enterprises. FortiGate also scored better for SMBs, although Sophos was only a little behind.
Balancing things up, however, Gartner Peer Insights placed Sophos Firewall slightly ahead in overall ratings by users based mainly on its strengths in service, support, and contracting. Overall, Sophos gets the edge on pricing, and SME offerings, while Fortinet wins in most other categories.
This updates a June 29, 2018 article by Jeff Goldman.
Read next:
Get the Free Cybersecurity Newsletter
Strengthen your organization's IT security defenses by keeping up to date on the latest cybersecurity news, solutions, and best practices.