The largest businesses, government agencies, non-profit corporations, universities, and other similar sized organizations qualify as enterprises. These complex multi-location entities often deploy local networks, virtual computing environments, cloud infrastructure, and a variety of devices that classify into the internet of things (IoT) and operational technology (OT) categories. Some even deploy applications, web servers, and containers.
To examine this broad spectrum of assets and connections, these organizations need multi-faceted tools, or a vendor that can supply integrated tools that support complex workflows and larger teams for vulnerability management, remediation, and related tasks. Security teams choosing between tool options will frequently decide based upon the need for optional integrations for specific security tools or particular automation capabilities.
Fortra
Fortra offers several vulnerability detection and management solutions that integrate with their security and automation solutions. Tripwire IP360 provides a focused vulnerability detection tool for both on-premises and cloud networks, including all devices and their associated operating systems and applications.
The other Fortra tools include beSECURE (available as a hosted service, an appliance, or a hybrid solution) and the Frontline Vulnerability Manager, which is part of the Frontline Cloud SaaS vulnerability management solution. Tripwire IP360 offers the most flexibility and focused capabilities of the three solutions, but organizations should select the option most appropriate for their needs.
For application scanning, Fortra offers three solutions. The BeSource SAST tool performs static application security testing (SAST), the BeSTORM DAST solution performs dynamic application security testing and black box fuzzing, and the Frontline Web Application Scanning focuses on a range of vulnerability scanning for applications within websites.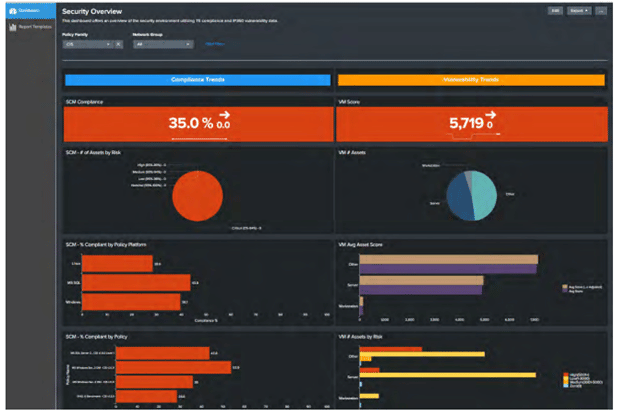 Key Features
Uses both agent and agentless scans
Scan online, offline and non-running cloud and local containers
Scans IT, IoT, and OT
Proprietary Tripwire VERT vulnerability ranking score that builds off of CVSS scores, but also considers active attacks, difficulty of exploitation, and other factors
Integration with Fortra security and automation tools
Pros
Asset discovery and profile
Scans on-premises, cloud, and containers
Scalable architecture & application-specific reporting
Scan reports stored in a database
Attempts to minimize false positives and offers a 'bounty' for confirmed false positives
Cons
Customers note that some scans can slow down performance
Reporting can be inflexible and limited
Port scans can take significant time to complete
Pricing
Fortra does not publish prices but provides a form to obtain a price quote for their tool and a managed service.
Intruder
Intruder is a cloud-based vulnerability scanner that performs over 10,000 security checks. Intruder uses an enterprise-grade scanning engine to run emerging threat scans for newly discovered vulnerabilities. Results are then emailed to IT and available on the dashboard.
Intruder can perform perimeter scanning, internal scanning, cloud resource scanning, and web application vulnerability scanning. Internal scanning uses an endpoint agent.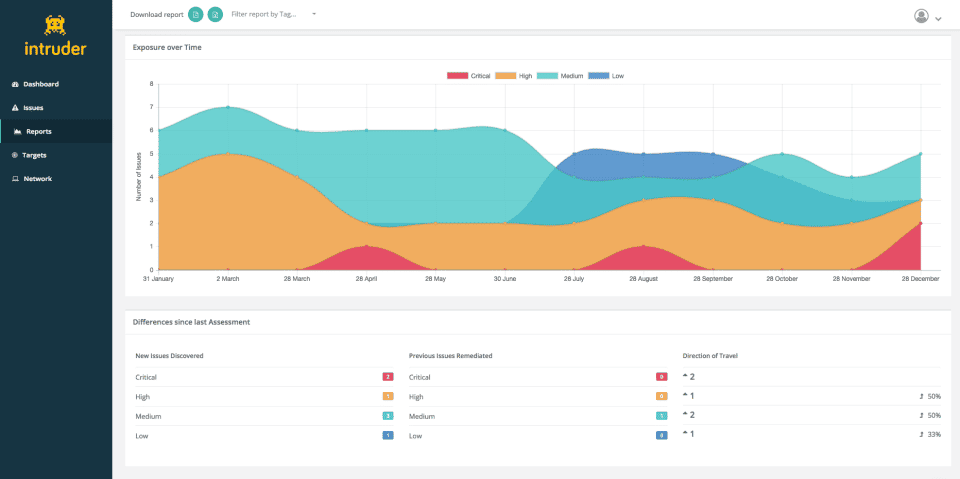 Key Features
Scans publicly and privately accessible servers, cloud systems, websites, and endpoint devices
Finds vulnerabilities such as misconfigurations, missing patches, encryption weaknesses, and application bugs in unauthenticated areas
Automatically scans systems for new threats‍
Automatic IP and DNS tracking
Integrates OpenVAS external scanning and Tennable's scanning tools under one integrated tool and license
Pros
Easiest to Use in Vulnerability Scanner software rankings on G2
Provides alerts when exposed ports and services change
Reduces the noise generated by constant log entries and warnings
Prioritizes issues based on context and focuses on perimeter vulnerabilities
Easy to set up, easy to maintain
Cons
Can require manual work in tasks such as agent deployment
Lacks a comprehensive GUI
Does not use proprietary detection engine; uses OpenVAS and Nessus scanning engines
Pricing
Customers license Intruder at one of three levels and pricing is based upon the number of targets to scan. Annual discounts are available and for more than 250 targets, customers cannot use the calculator and must obtain a quote.
Essential

Powered by OpenVAS scanning engine
1 scheduled monthly scan, unlimited ad hoc scan, 2 users
External vulnerability scanning only
Pricing starts at $101 / month (1 target) and at 250 targets hits $689 / month

Pro (free trial available)

Uses Tenable's Nessus scanning engine
Unlimited scheduled and hoc scans, unlimited users
External and Internal scanning
Syn AWS, Google Cloud, Azure targets
API & developer integrations
SSL/TLS certificate monitoring
Pricing starts at $163/month (1 target) and at 250 targets hits $983/month

Vanguard

Add triage from certified penetration testing
Enhanced accuracy
Extended vulnerability discovery
Requires contacting Intruder for a quote
Rapid7 Insight Platform
The Rapid7 Insight platform provides a suite of security, vulnerability management, penetration testing, web and app scanning, orchestration and automation tools to enable organizations of all sizes to secure their sprawling IT environment. Insight VM provides the vulnerability management platform to automatically scan and assess physical, cloud and virtual infrastructures. The tool provides live and interactive dashboards, solution-based remediation and risk scoring and prioritization.
Insight VM builds on the local network vulnerability tool Nexpose, and automatically detects and scans all new devices connected to a network to provide real time vulnerability identification. It also offers a lightweight endpoint agent for processing information while consuming minimal bandwidth.
The InsightAppSec tool performs Dynamic Application Security Testing (DAST) on applications and integrates into development (dev) and security (sec) workflows. The tool crawls launched applications to check for nearly 100 different attack types including SQL Injection, cross-site scripting (XSS), and cross-site request forgery (CSRF).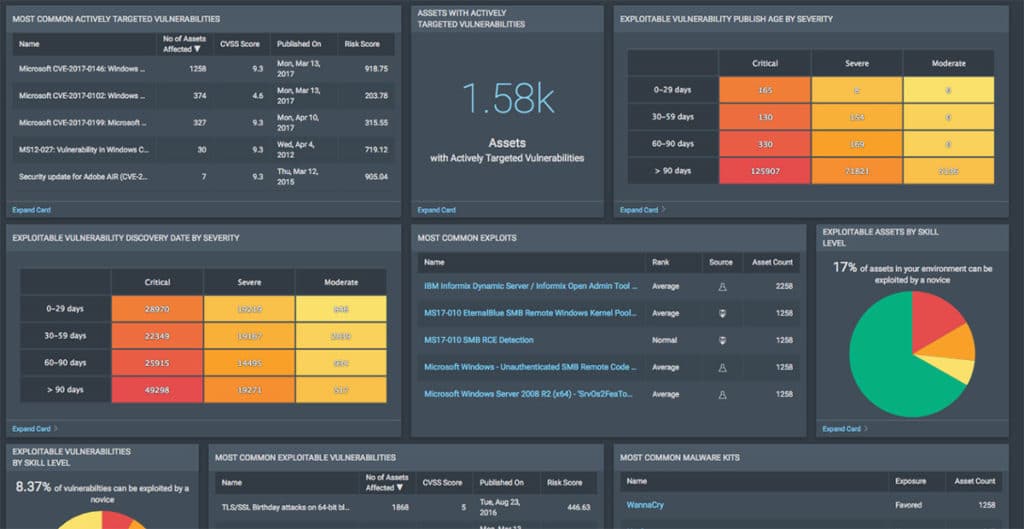 Key Features
Unlimited user accounts
24/7 technical support
Customizable dashboards
Extensive vulnerabilities list scanned
Policy assessment
Attack surface monitoring
Integrates with Splunk, ServiceNow, AWS and more
Pros
Integrates with Rapid7 Detection & Response and Cloud security products as well as automation and orchestration products
Includes remediation workflow
Constant scanning and real-time data availability
Uses a risk scale of 1,000 to help IT managers prioritize more effectively and efficiently
Create custom asset groups to direct remediation to designated IT teams
Can scan temporary assets such as containers and other virtual assets
Cons
Requires an agent
Limited PAM integration
Requires SSH access to scan ESXi environments
Challenging to scale
Limited options for database instances
Application scanning is not as comprehensive as dedicated app scanners
Pricing
Insight VM pricing depends on volume. Published prices start at $2.19/month/asset for 250 assets and decrease with volume discounts. For example, with 1,000 assets, the price drops to $1.71/month/asset. Annual payment pricing discounts and free trials are available, and Insight VM is also available within the AWS marketplace.
Packaged licensing options are also available, although Rapid7 does not necessarily publish pricing. For example, Cloud Risk Complete combines cloud infrastructure and application security scanning into one license.
Qualys Vulnerability Scanning
The Qualys Cloud Platform provides options for a wide variety of integrated security, vulnerability, compliance, asset management, and patch management tools. Organizations seeking vulnerability scanning can select from the modules related to vulnerability detection and management:
Although the features and capabilities will vary depending upon the modules selected, Qualys provides a one-stop shop for enterprise-scale security and vulnerability management for an entire IT environment.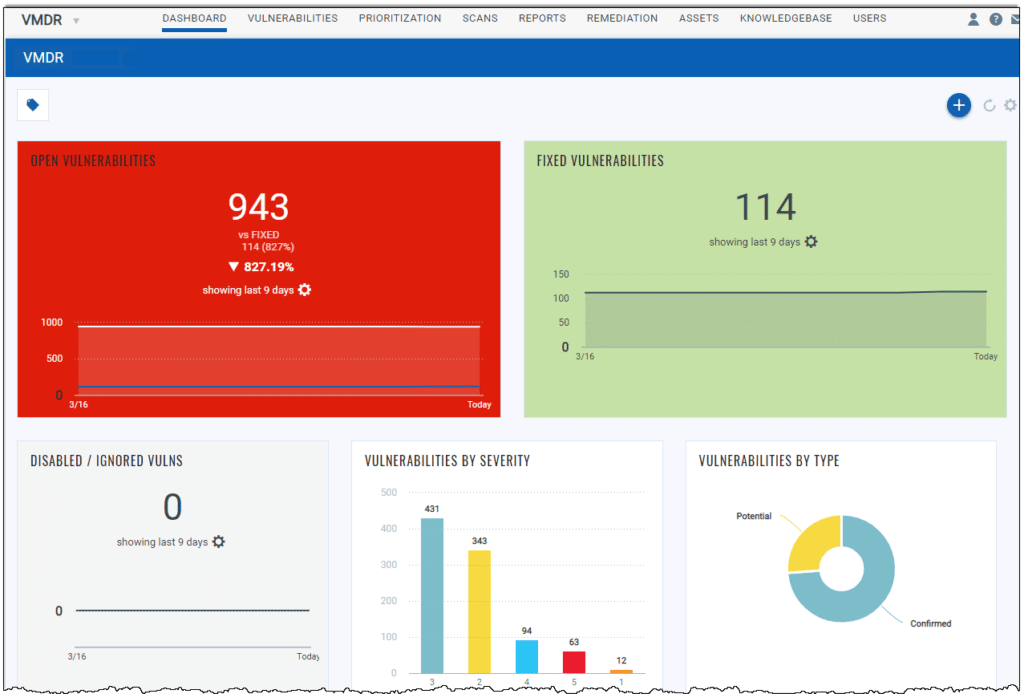 Key Features
Scans and detects IT devices, web applications, Operational Technology (OT), and Internet of Things (IoT)
Scans all applications within the perimeter including cloud instances and APIs for mobile devices
Qualys TruRisk provides proprietary risk ratings that combine CVSS scores, real-time threat indicators, exploit code maturity, assessments of active malware, threat actors, trending risk, and applied mitigation controls
Can combine scans for vulnerabilities, compliance, and malware
Consolidated user interface, reporting, and dashboards for all modules
Deploys from a public or private cloud, fully managed by Qualys
Options for one-click remediation of some vulnerabilities
Pros
No code workflows
Huge number of options
Very effective when fully integrating asset management, vulnerability management, and security
Rule-based integrations generates automatic tickets for remediation through tools such as ServiceNow and JIRA
Cons
Requires an agent
Steep learning curve for new users
Many modules can often lead to excessive and repetitive menu options
Not all options perform at equally high levels – especially without training
Modules sometimes update separately resulting in inconsistent user interfaces
Can be slow in scanning endpoints
Pricing
Customers license the Qualys Cloud Platform on an annual basis based upon the number of Cloud Platform Apps selected, the number of IP addresses, the number of web applications, and the number of user licenses. Customers describe three tiers of pricing: Express Lite (max 256 IP addresses, 25 web apps, 2 scanners, 3 users), Express (Max 3072 IP addresses, 100 web applications, 5 scanners), Enterprise (unlimited use).
Qualys does not publish prices, but customers have reported pricing packages from below $300 for small businesses and up to $2,000 for larger packages. Free trials subscriptions are available.
Tenable
Developed originally as an open source and free Unix vulnerability-scanning tool, Tenable later evolved Nessus into an agentless vulnerability assessment tool with coverage for more than 47,000 unique IT, IoT, OT, operating systems, and applications. Nessus and the free version, Nessus Essentials, still exist, but enterprise-scale customers need more sophisticated solutions.
For enterprise customers, Tenable integrates Nessus with the broader Tenable One platform, which includes tenable.io for vulnerability management and web app scanning as well as the tenable.sc security center. Tenable conducts regular research and discovers zero-day vulnerabilities that it adds to the Nessus tool for early detection.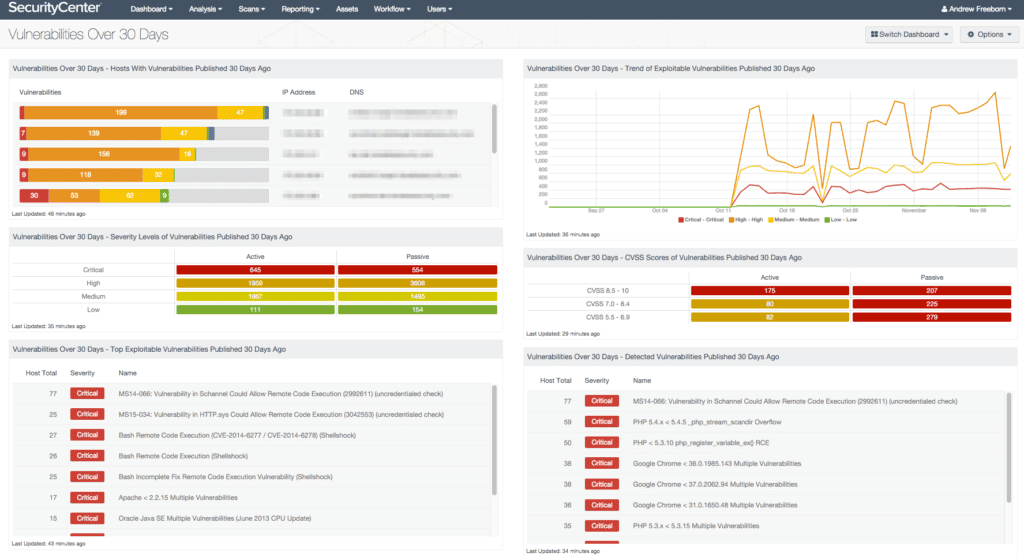 Key Features
Preconfigured templates to enable quick starts
Automatically performs full scans as soon as new vulnerability plugins are added
Checks for vulnerabilities as well as compliance configurations
Report templates provide quick snapshots
Customizable templates enable branded reports for consultants and service providers
Automated vulnerability and misconfiguration alerts for Security Incident and Event Management (SIEM) tools
Pros
3rd Easiest to Use in Vulnerability Scanner software rankings on G2
Executive dashboards and powerful filtering to dig into findings
Can assess modern infrastructure as code (IaC)
Agentless Scanning
False positive rate is lowest published rate with better than six-sigma accuracy (~0.32 defects per 1 million scans)
Cons
Steep learning curve for new users
Some users complain of false negatives
Some users complain about limited API integration
Pricing
Tenable provides their products based on annual subscriptions with multi-year discounts. They offer two levels of pricing for Tenable.io:
Tenable.io Vulnerability Management

Pricing based per asset (minimum 65)
$2,275 / year at 65 assets; discounts for multiple year contracts

Tenable.io Web App Scanning

Pricing per domain starting at 5 fully qualified domain names
$3,578 / year for 5 domains
Free trial versions are available for the commercial products. Resellers may offer discounted or bundled pricing.
Best Enterprise Vulnerability Scanning Tool Criteria
To create this list, we surveyed a broad array of websites, vendor materials, and customer reviews to create a pool of qualified candidates based upon capabilities and reputation. We then filtered the list specifically for vendors that provide vulnerability scanning of the many different types of IT technologies and applications that an enterprise might deploy.
Similar capabilities can be achieved by combining very capable, but focused vulnerability scanners, but enterprises need tools that integrate with each other and that can be centrally managed by specialized security teams or service providers. Enterprise vendors also typically need enterprise-grade support for complex needs and issues.
Bottom Line: Buying Enterprise Vulnerability Scanning Tools
When purchasing integrated tools, it can be tempting to compare future features that could possibly be needed in 5-10 years., especially when it can be difficult to switch tools once the security team gains expertise after training and years of use on one tool.
Additionally, with enterprise-class vulnerability scanners, it doesn't make sense to deploy multiple tools from different vendors and suffer with integration issues. Instead, open source tools should be used to provide low-cost second-opinion vulnerability scans — if the security team has the bandwidth to learn and run those tools.
Enterprise-grade vulnerability scanning tools can provide enormous return on investment by lowering the cost of IT and security teams to track, scan, and manage vulnerabilities. Still, organizations should avoid overpaying for unneeded features. Compare deployed assets against the scanning capabilities of the tools, and compare the integrations with the specific security tools already in place or options to replace existing tools.
If the tool doesn't make sense now, future cost-savings initiatives may eliminate the tool in the future. Buy the tool needed to solve today's problem at a price that makes sense now.
For more information on Vulnerability Scanning Options see:
Featured Partners: Vulnerability Management Software
Get the Free Cybersecurity Newsletter
Strengthen your organization's IT security defenses by keeping up to date on the latest cybersecurity news, solutions, and best practices.