Like many cybersecurity vendors, ESET continuously innovates to stay competitive as illustrated by the constant improvements to their flagship cloud-based endpoint protection platform, ESET PROTECT. The company and this product have earned their mention on our lists of top endpoint detection and response (EDR) products and full disk encryption.
This article looks at the key features and benefits of the ESET PROTECT Advanced solution.
ESET PROTECT
The PROTECT platform is ESET's solution for the hybrid infrastructure era. As organizations adopt more cloud and virtual workloads, tools like PROTECT are critical to transitioning from on-premises systems and protecting the digital infrastructure. Administrators can use a single cloud-based management console to quickly deploy ESET and configure policies.
ESET Protect delivers:
IT Operations improves workflows and reduces costs with controls for managing and controlling devices
Security Management to protect networks and data
Security Operations to detect, analyze, and respond to threats
ESET LiveSense multi-layered technologies to improve protection, inspection, and responses to attacks
Premium Services for threat intelligence, managed detection and response (MDR), support and more.

ESET PROTECT IT Operations
Within the IT Operations solution of ESET PROTECT, IT managers can implement a variety of controls and workflows. These options reduce costs by automating many time-consuming tasks related to deployment and policy implementation: device control, firewall management, inventory (hardware and software), mobile device management, rogue device management, and web control.
ESET PROTECT Security Management
Security provides a key component of the ESET PROTECT product and legacy ESET technology. The Security Management solutions include: automated response, cloud office security, encryption, endpoint detection, ESET LiveGuard malware detection, and multi-factor authentication.
Together, these tools lock down data and provide security for a comprehensive range of business infrastructure for small and medium-sized businesses. Of special note are two key features: full disk encryption and advanced threat defense provided by ESET LiveGuard Advanced.
Full Disk Encryption
Using a combination of proprietary encryption and OS encryption tools, ESET PROTECT supports Trusted Platform Module (TPM) and OPAL self-encrypting drives. Full-disk encryption significantly reduces data risks and protects critical systems.
Read more:
ESET LiveGuard Advanced
ESET LiveGuard Advanced provides ESET's fully automated cloud-based machine-learning sandbox to perform behavioral analysis and deep inspection of attacks and malware. This tool directly counters zero-day threats and ransomware strains with a critical protection layer for investigating suspicious traffic before it enters the network.
The sandbox simulates actual machine behavior for all physical and virtual hosts, giving malicious files the chance to launch in an isolated environment while critical segments stay protected.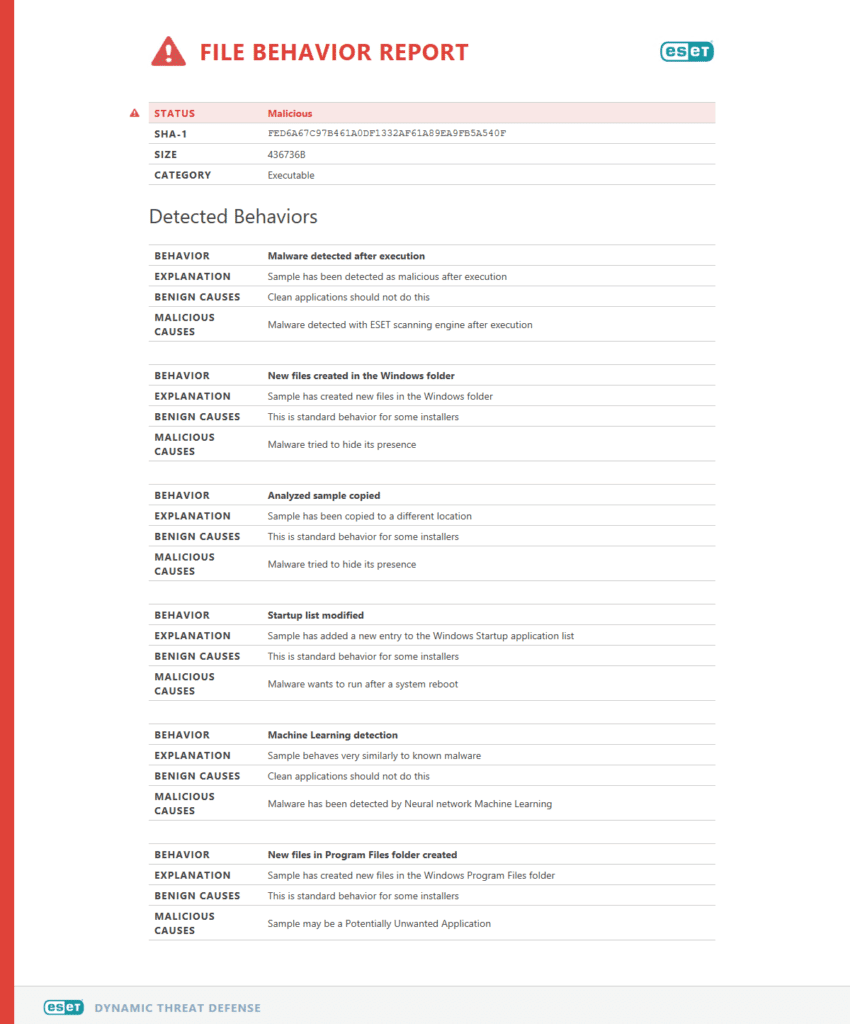 A sample ESET Dynamic Threat Defense sandbox file behavior report
ESET PROTECT Security Operations
The security operations tools within ESET PROTECT enable detection rules, enriched context for alerts, forensic tools, indicators of compromise, and tools for threat hunting and incident response. As part of this toolset, ESET Inspect enables eXtended Detection and Response (XDR) capabilities.
Using these tools internal security teams, managed detection and response (MDR) teams, or managed IT security service providers (MSSPs) have the tools and the information to rapidly detect, identify, investigate, and document an incident response.
ESET PROTECT LiveSense
The LifeSense technologies within the ESET PROTECT solution provide a host of cloud-based, multi-layered protections and tools. These tools include advanced machine learning, firmware inspectors, botnet protection, network attack protection, secure browsers, and more.
ESET PROTECT Premium Services
To complement the ESET PROTECT solution, ESET provides an array of premium services such as an infrastructure health check, deployment and upgrade services, premium support, threat intelligence, and managed detection and response (MDR) services.
ESET Competitors
Bitdefender
Broadcom
Cisco
CrowdStrike
F-Secure
Kaspersky
McAfee
Trend Micro
Palo Alto Networks
Also read: Top Endpoint Detection & Response (EDR) Solutions
Recognition & Reviews
On Gartner Peer Insights, ESET has almost 700 customer reviews for ESET PROTECT with an average of 4.5 / 5 stars. ESET earned similar ratings from 166 reviews on TrustRadius (8.7 / 10) and 605 reviews on G2 (4.6 / 5). Highlighted features included the constant updates and upgrades, an easy onboarding and deployment process, and product capabilities.
Read more: Top XDR Security Solutions
PROTECT Business Pricing
ESET offers an interactive demo and a 30-day free trial of PROTECT. Pricing is listed on their website, but does not reflect potential discounts available through resellers and MSP / MSSP partners.
For businesses, ESET offers three versions of ESET Protect (Entry, Advanced, Complete) with licenses for a minimum of one year and five devices. Discounts are available for longer time commitments, more endpoints, and through occasional new customer promotions. ESET provides instant quotes on licenses for up to 3 years and 100 devices or less on its website and further needs can be explored with custom quotes.
ESET PROTECT Business pricing:
Entry
$190 / 1 year / 5 devices ($38 / year / device) Minimum
$4,940 / 3 years / 100 devices ($16.57 / year / device)
Includes management console, endpoint protection, and file server security
Detection and Response as well as Security Services are available on demand for additional fees.
Advanced
$248.40 / 1 year / 5 devices ($49.68 / year / device) Minimum
$7,560 / 3 years / 100 devices ($25.20 / year / device)
Adds full disk encryption, and advanced threat defense
Detection and Response as well as Security Services are available on demand for additional fees.
Complete
$382.50 / 1 year / 5 devices ($76.50 / year / device) Minimum
$11,610 / 3 years / 100 devices ($38.70 / year / device)
Adds cloud app protection and email security
Quotes can also be obtained for separate ESET solutions for multi-factor authentication and Cloud Office security.
ESET: Company background
ESET's roots start in 1987 in Bratislava, Czechoslovakia (Slovakia), developing its first anti-virus software, NOD. After the dissolution of the Soviet Union, ESET was formally established in 1992 and later started subsidiaries in the United States (1999), Czech Republic (2001), Poland (2008), and Canada (2012). With 35 years of anti-virus and endpoint protection experience, the vendor continues its threat research with 13 R&D centers worldwide.
As a security company, ESET's name recognition may not be as high as other long-time cybersecurity brands. Yet with 35 years of experience, the Slovakia-based company has been around longer than most rivals.
In 2015, ESET made its sole acquisition of UK-based DESlock, a provider of encryption solutions for businesses. With over 1,800 employees in 24 branches around the world, ESET's security solutions serve over 110 million users and business customers.
Also read: Why ESET makes our list for Best Cybersecurity Awareness Training for Employees in 2021.
This article was originally written by Sam Ingalls on October 9, 2021, and updated by Chad Kime on February 15, 2023.
Get the Free Cybersecurity Newsletter
Strengthen your organization's IT security defenses by keeping up to date on the latest cybersecurity news, solutions, and best practices.