Cybercrime has skyrocketed in the last few years, and the websites of small and medium-sized companies have been the most frequent target of web attacks.
The statistics are sobering: Small businesses report substantial downtime and lost data and business from those cyberattacks, and fewer than 30% are able to recover from a cyberattack within eight hours.
Most website owners don't know how to protect their sites. That makes a reliable and secure hosting environment critically important. In an ideal world, that would mean having full control over your services while remaining fully protected from outside breaches.
That's where SPanel can help.
See the Top Web Application Firewalls (WAFs)
What is SPanel?
SPanel is an all-in-one cloud management solution developed by the team behind ScalaHosting, this article's sponsor. It was created to enable businesses to grow their websites in a secure environment. The platform uses the latest software technologies to achieve maximum performance.
SPanel integrates easily with most popular web server solutions, such as LiteSpeed, OpenLiteSpeed, and Nginx. It runs as an Apache proxy, meaning that websites get the best possible speeds. For PHP processing, SPanel supports the latest PHP and MySQL/MariaDB versions. In addition, it comes with Memcached installed, which also helps with fast content caching.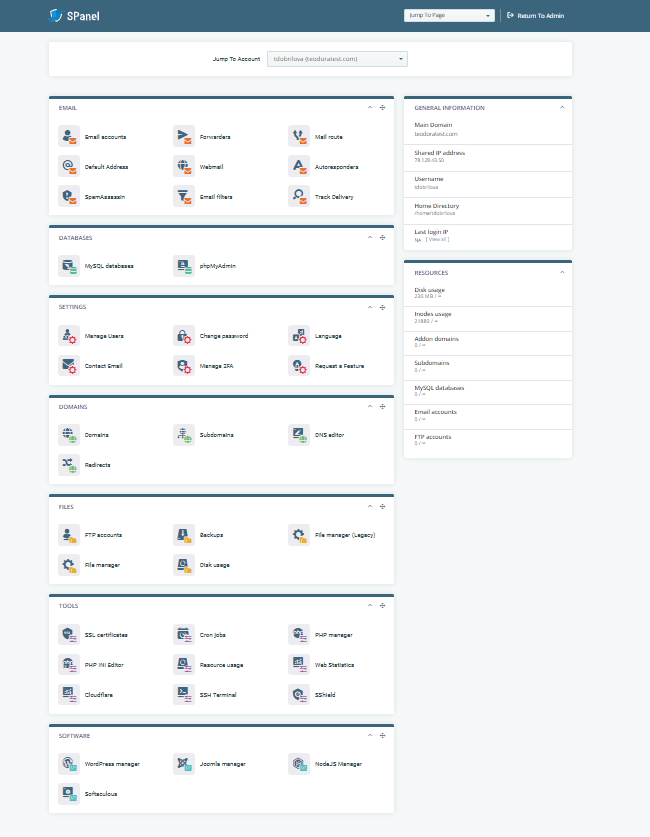 The Admin interface allows for server and accounts management. It also shows the system load, memory and disk usage, as well as IP reputation.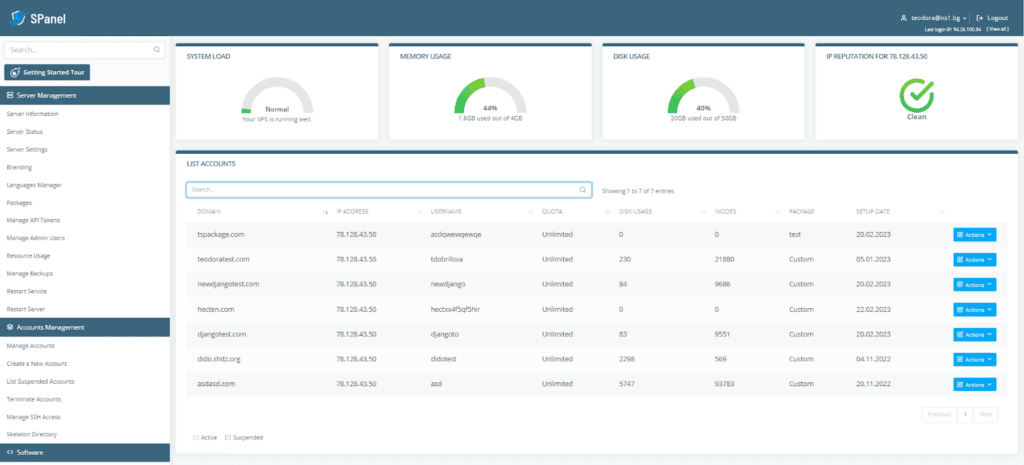 To sum up, SPanel is lightweight, easy to use, and free. But is this enough?
Why Use SPanel on a Cloud VPS?
Cloud virtual servers prove to be the best environment for SPanel. The cloud technology allows users to get the most of their server resources and further improve their security. Pairing that up with a lightweight and multifunctional platform means you can take full advantage of your virtual server.
SPanel gives users a centralized point of control. Thanks to its integration with Softaculous, anyone can install web building apps in just a few clicks, no tech knowledge needed.
Developers and web studios get to enjoy even more features. They can change SPanel's branding with their own, get usage reports, and download or view the Apache and PHP logs. Also, webmasters can manage:
API access
PHP
MySQL databases
DNS records
Backups
FTP users
Users can also create packages with predefined resource limits, view resource usage, automate accounts management, and more.
SPanel and Web Security
With cybercrime rising and website owners not prepared to protect themselves, ScalaHosting made sure SPanel comes with top-notch security features, some unique to the platform. Those security features set SPanel apart from competitors like cPanel and DirectAdmin.
SShield

SShield monitors all website activity 24/7. It blocks 99.998% of threats before they reach the server. The platform carefully collects information about attacks, makes a report, and notifies the site owner.
SShield relies on AI-based algorithms and advanced machine learning to protect websites. When it encounters a new attack, the platform learns from itself and updates its database. Unlike other solutions, SShield doesn't block access to the affected account; it allows the owner enough time to fix the issue without affecting website uptime.
SWordPress Manager
As WordPress is used by 43% of all websites, SPanel contains the unique SWordPress Manager. The tool is included in the platform by default and offers a one-of-kind security feature: Security Lock. When it is activated, it effectively locks all files and directories. No one can modify data or upload files, so the website is fully protected from unauthorized access.
SSL Certificates for data encryption

The S at the end of an HTTP connection indicates a Secure Sockets Layer (SSL). This certificate is actually a digital data file installed on web servers to verify their identity. SSL also protects confidential data (for example, payment details), improves SEO rankings, and inspires trust.
SPanel offers free SSL certificates that automatically renew to avoid any service interruptions.
Offsite backups
SPanel accounts also get free daily backups to a remote server. Users can restore the data at any time from SPanel. All information is archived and can be accessed easily.
The user interface also features a Backup manager that enables users to do manual backups. It also allows them to easily restore and download the saved information. Incremental local and remote backups can be scheduled hourly, daily, weekly or monthly.
You can set optional expiration dates on your backups so SPanel automatically removes them to free up disk space.
Two-factor authentication
Two-factor authentication verifies your identity using your username/password and another method. Most often, the tool sends a confirmation code to the user's smartphone.
Admins can enable the two-factor authentication feature by going to the SPanel Admin interface and clicking Server Settings. Then it's a matter of simply switching the toggle next to 2FA to On.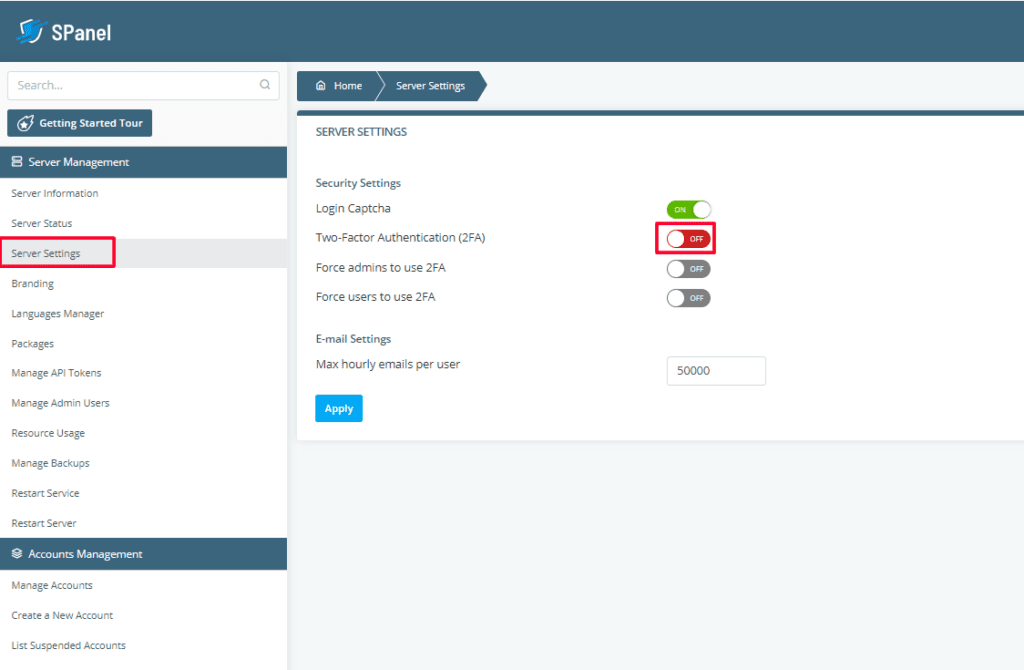 SPanel Licensing
SPanel.io recently released new licensing plans allowing SPanel to be used with any web hosting vendor.
The fully-managed option comes with the control panel, free website migration, support from the SPanel team, and more. The self-managed one comes with only an SPanel license. It works on both virtual and physical servers and is renewed on a monthly basis.
You can see the full list of features on the official SPanel website, which also lists pricing.
Bottom Line: Secure Hosting
SPanel is a good option for easy hosting management and creating a secure environment for your website. Thanks to its security features, such as the SShield, SWordPress Manager, and daily offsite backups, website owners can focus on what truly matters — developing their business. The platform can handle the rest.
Read next: Application Security: Complete Definition, Types & Solutions
Get the Free Cybersecurity Newsletter
Strengthen your organization's IT security defenses by keeping up to date on the latest cybersecurity news, solutions, and best practices.