Last year, the Supreme Court ruled that the Civil Rights Act of 1964—which has historically applied to race, color, religion, sex, and national origin—also protects gay and transgender workers. This landmark ruling means members of the LGBTQ+ community cannot be discriminated against in hiring, firing, and promotion decisions. But the absence of discrimination doesn't mean a workplace is diverse or inclusive.
Like other areas of diversity, LGBTQ diversity, equity, and inclusion (DEI) are essential parts of the tech industry's future. Technology has made the LGBTQ community safer and more connected in some ways, but it has also been the source of some harm. Diversity in the workplace is what helps tech companies focus on the former and prevent the latter.
However, diversity isn't a destination with a clearly defined roadmap for tech companies to follow; it's a moving target that comes with its own unique challenges. Sometimes the tech industry gets LGBTQ+ diversity right, and sometimes the misses have drastic consequences.
LGBTQ+ representation data can be unreliable
One of the biggest markers of diversity is representation and visibility—if current and prospective employees can see employees who are like them across the org structure, they will be more likely to feel confident in their opportunities. LGBTQ representation, however, is harder to discern than race and gender, for example, because it's less perceptible. This is especially true in a heteronormative culture that sets the default to heterosexual and cisgender.
Related: Women Comprise Just 11 Percent of Global Cyber Security Workforce
In some situations, assuming someone's LGBTQ+ identity can create an uncomfortable situation among colleagues. In others, it can create a hostile work environment with serious ramifications. So, LGBTQ+ representation data depends on self-reporting.
This presents another challenge, because workers are unlikely to self-report (even in a blind survey) if they feel it could lead to backlash or bullying. This is with good reason, especially in the tech industry: a 2017 TechLeavers study found that LGTBQ tech employees were more likely to experience bullying (20%) and public humiliation (24%) than their non-LGBTQ colleagues (13% and 13%).
An employee will be less likely to out themselves in the workplace if they fear they may be treated unfairly after the fact, especially if the company culture doesn't actively create space for LGBT inclusion. This can perpetuate a harmful cycle. Without company-wide measures that address anti-inclusive culture from top to bottom, LGBTQ+ diversity doesn't have a path forward.
Diversity challenges don't stop at recruitment
If you think obstacles to diversity stop once your employees have been hired, you're not alone. In fact, a 2018 BGC survey on global diversity found that many leaders—especially straight white male leaders—believe recruitment is the biggest challenge to an organization's diversity.
This belief is misguided. Recruitment is a challenge, of course, but even bigger challenges await after an employee accepts an offer. "Hiring people from diverse groups," the researchers explain, "is easier than successfully addressing the deep-rooted cultural and organizational issues that those groups face in their day-to-day work experience."
These issues typically arise in areas of retention, advancement, and leadership commitment. Notably, the survey found that heterosexual men aged 45 and older saw these areas as less impactful on the company's diversity and inclusion than recruitment when compared to the respondents from diverse groups: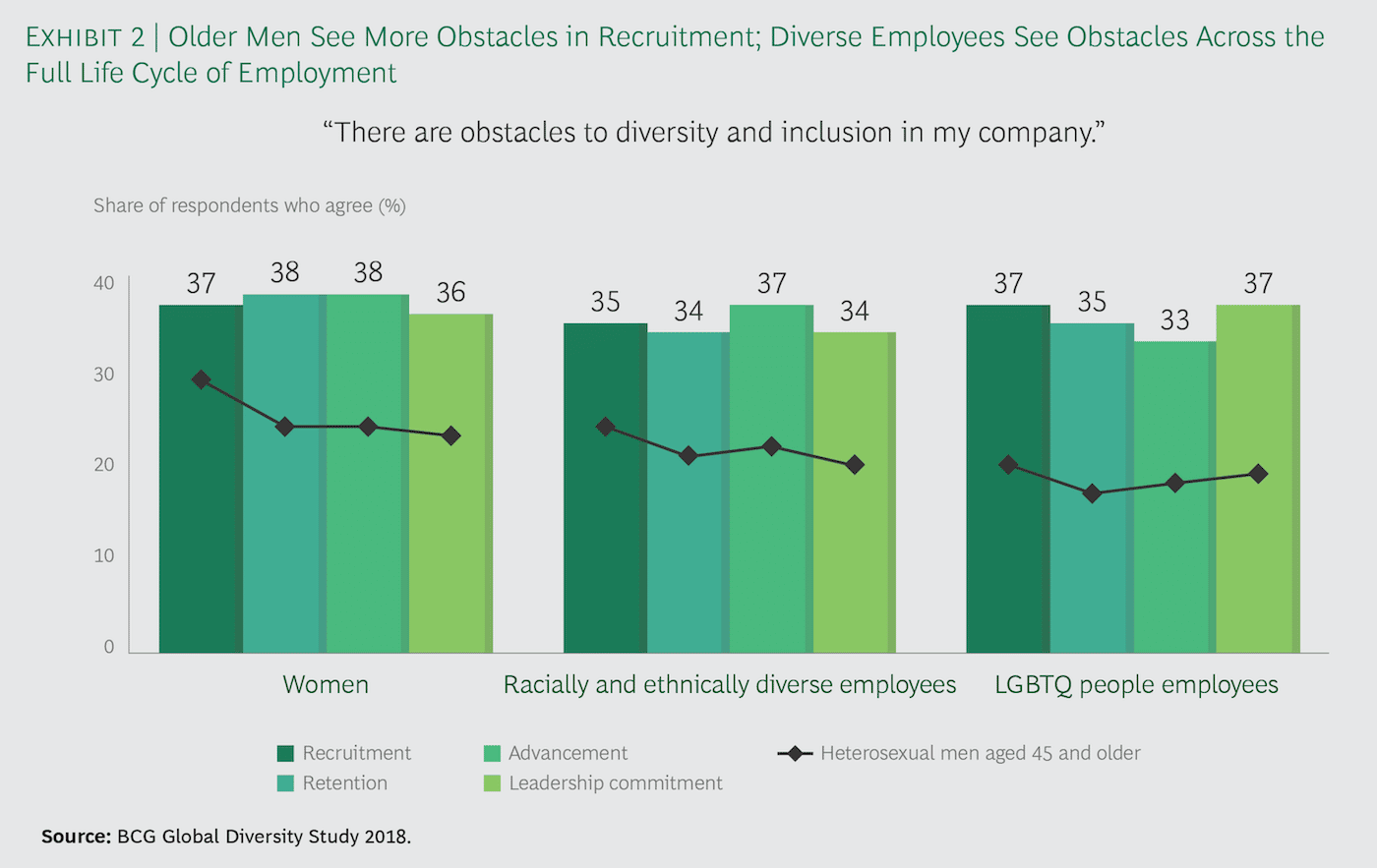 This disparity indicates that solutions for creating a more diverse and inclusive environment are more complex than the majority of tech leaders may believe. Instead of solely focusing on measures that will attract a more diverse pool of applicants, a better approach is to look at obstacles across the employment life cycle. Some tactical ways to address these obstacles are outlined below.
Retention
To improve retention, it's important to weave inclusivity into the fabric of an organization. This includes structural interventions and policies like gender-neutral restrooms and equitable parental leave. It could also include training to bring awareness to and prevent workplace microaggressions—the hostile and derogatory comments that usually fly under the radar, like calling someone's LGBTQ identity a "choice" or refusing to use their pronouns. These measures will eliminate barriers to diversity that can sour an employee's experience and cause them to seek employment elsewhere.
Advancement
Advancement often works hand-in-hand with recruitment and retention—no one wants to join or stay with a company that doesn't offer room to grow, especially if they feel their LGBTQ identity may prevent them from being promoted. The biggest influence here is bias, whether conscious or not. Hosting performance reviews more frequently than once a year and implementing clear evaluation guidelines will help maintain objectivity when it comes to promotion decisions.
Leadership commitment
To effectuate a truly diverse workplace, an organization should present a top-down investment in diversity, equity, and inclusion. It's more than leading by example; it's about the leaders of a company recognizing the benefits of DEI and taking every opportunity to create a culture that aligns with those values. This includes allocating resources and funding to initiatives that support DEI goals and connecting those goals to core business strategies.
Tech industry is friendlier than others
Although there are certainly areas where companies in all industries can improve to create a more inclusive culture, the tech industry is home to some of the most LGBTQ-friendly companies in the world. Case in point: half of Glassdoor's top companies for LGBTQ+ people to work in 2020 were tech companies, including Google, IBM, Microsoft, Salesforce, Slack, and Apple.
The tech industry is still relatively homogenous, and some obstacles still remain. But technology is often more concerned with objective results than anything else, which helps level the playing field. As Ginger Chien, a transgender device engineer at AT&T, shared in a recent ABC News article, "Tech is a place where your performance is really easy to quantify." In many ways, it's easier to let accomplishments in the tech industry speak for themselves. This helps put employees from diverse groups on equal footing with everyone else.
The tech industry also has more dedicated resources for the LGBTQ+ community than most other industries. Aside from company-sponsored employee resource groups like Microsoft's GLEAM program, networking and support groups have formed across the tech industry. These include:
The future of LGBTQ+ in tech
The future of the tech industry is only as promising as the diverse group of innovators who will lead the way. Especially with the rise of 5G and artificial intelligence, tech leaders with intersectional identities will be essential to creating benevolent products that are free of bias and potential blindspots.
Read more: Using AI to Promote Diversity in the Tech Industry
It's already happening. According to BCG, Gen Z and young Millennials are driving diversity and inclusion from the bottom up, and it will take more than superimposing a rainbow on a company's logo during Pride month to demonstrate inclusivity. Tech companies will need to commit to and prioritize DEI to create a truly inclusive environment that will be attractive to future generations of LGBTQ innovators and consumers.
Get the Free Cybersecurity Newsletter
Strengthen your organization's IT security defenses by keeping up to date on the latest cybersecurity news, solutions, and best practices.