eSecurity Planet content and product recommendations are editorially independent. We may make money when you click on links to our partners. Learn More.
See our complete list of top 10 enterprise encryption solutions.
Company Description
ESET is an IT security firm that has been making security technology since 1987. It is ranked by Gartner as the 4th largest endpoint security provider in the world. ESET has consumer and business users in more than 200 countries, and operates 18 ESET offices in various countries. Nearly 400 of its 1,400 employees are dedicated to R&D, and the company continues to focus on investing in advanced layer security that protects people and businesses from evolving cyber threats.
Product Description
DESlock encryption by ESET can manage users via the web without their endpoints needing Active Directory or Domain accounts. No incoming connection is required for client PCs or the enterprise server. This avoids the need for configuring and managing a secure incoming port. The web-based management console allows multi-user administration across the network, and a helpdesk login provides non-admin access to user-recovery features.
Further features include the ability to remotely wipe devices anywhere in the world without any network or firewall changes, as well as a key sharing system that simplifies the process of key management and makes encryption easy to understand. As a result, encryption policy setting and enforcement is said to be relatively easy. The system eliminates complexity so end users need little or no training to utilize it. Centralized management delivers the ability to control devices anywhere in the world.
Agents
ESET utilizes an agent that allows the remote control and management of endpoints. The agent can be deployed via push from its management server directly, or deployed using traditional Microsoft Installer (MSI). The agents support any Windows device (desktops and servers, XP+).
Markets and Use Cases
The company is strong in markets where compliance requirements dictate encryption (such as PCI and HIPAA).
"We are starting to see a lot of traction in private companies with remote workforces who want to protect sensitive information such as client lists," said Ben Reed, Senior Technical Strategist, ESET. "By deploying DESlock, they gain a way to remotely wipe employee devices when called for, no matter where they are in the world."
Applicable Metrics
There are no limits imposed by DESlock other than a file size of no greater than 3.99 GB.
Security Qualifications
FIPS 140-2 certified, and meets all requirements for HIPAA, PCI, SOX, GLBA, FSA and other compliance environments.
Intelligence
Fully automated
Standalone or Suite
It offers DESlock as an encryption solution standalone, as well as packages with ESET's flagship endpoint security (anti-malware) product.
Delivery
The management server is a single application that needs to be installed on a Windows machine (server not required). It is recommended that users install it on a local device due to the nature of it holding enterprise encryption keys. However, some companies have installed this in the cloud. Some companies turn this device off after they have completed deployment, as the management server does not need to be constantly running. It only needs to be running when changes need to be made, or new machines need to be encrypted.
Pricing
A sliding scale of pricing; examples:
MSRP 5-10 users – $56 a year or $117 for 3 years
100 users – $45 a year or $95 for 3 years
1000 users – $33 a year or $71 for 3 years


Get the Free Cybersecurity Newsletter
Strengthen your organization's IT security defenses by keeping up to date on the latest cybersecurity news, solutions, and best practices.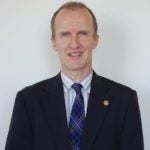 Drew Robb has contributed to eSecurity Planet and other TechnologyAdvice websites for more than twenty years. He's covered every aspect of enterprise IT in his career, from the latest trends to in-depth product analysis. He is also the editor-in-chief of an international engineering magazine.
Subscribe to Cybersecurity Insider
Strengthen your organization's IT security defenses by keeping abreast of the latest cybersecurity news, solutions, and best practices.